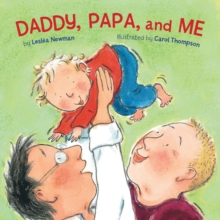 Daddy, Papa and Me
Board book
Information
Format: Board book
Pages: 33 pages, Full Colour
Publisher: Tricycle Press
Publication Date: 09/06/2009
Category: Picture storybooks
ISBN: 9781582462622
Free Home Delivery
on all orders
Pick up orders
from local bookshops
Reviews
Showing 1 - 5 of 10 reviews.
Previous | Next
Review by ChelseaSaysRawr
16/06/2015
A lovely little book by Leslea Newman about a boy's fun day with both of his dads. Yes, his parents are gay but that fact is not what the story is about. Its not about how kids react to him having two dads, how he came to be born, what others say to him or how conflicted he feels about his parents. No, this book is not condescending or meant to make a big point about his dads like a few children's stories that I have read in the past. I feel that its meant to be a nice picture book telling a story that kids would enjoy being read to them. No big fuss about his dads, just the normal playtime between parents and child. And that is the book's charm.But lets not forget that this board book is written with great rhythm and rhyme that is just meant to be read allowed. For example " Papa and I both drum,drum,drum. Daddy and I both strum,strum, strum!" Then there are the gorgeous pictures, well drawn and could tell the story without the words. Great for a child that can't read and wants to know whats going on. This board-book is well worth the five stars I'm giving it.
Review by michelleraphael
16/06/2015
"Daddy, Papa, and Me" tells a brief story about a child with two dads. I think it is a wonderful little book because it shows that two dads do the same things that a traditional family would do. Hopefully children will see that they are good parents instead of pointing out that they are homosexuals.
Review by MFeil
16/06/2015
It's not everyday that you find a book with same-sex parents, so this book is very exciting! The illustrations are very cute, and the message is clear: love makes a family. I like that it is a simple book for very young readers, that does not focus on the same-sex relationship, but rather includes it as part of everyday life. I also like that the baby is gender neutral.Age range: 3 months - 3 years (B&N)
Review by KellyLPickett
16/06/2015
This is a really good book to use during a unit on families. It is about a young child who has 2 dads, but are still very much a family. in out chanding societal landscape it is important to talk about the many different types of families there now are.
Review by AbigailAdams26
16/06/2015
This winsome little board-book features a cheerful toddler spending the day with his two fathers: playing music together, dressing in costumes, and having tea with his stuffed animals. Lesléa Newman's rhyming text - <i>"Daddy wears a shiny crown. Papa dresses like a clown. Daddy's plane goes zoom, zoom, zoom! Papa's car goes vroom vroom vroom!"</i> - is ideal for reading aloud, and Carol Thompson's adorable illustrations accentuate the fun in each scene.As mentioned in my review of <u>Mommy, Mama, and Me</u>, I am always on the look-out for children's books which portray same-sex parents in a positive and natural light, without becoming too preachy, and <u>Daddy, Papa, and Me</u> certainly qualifies! I'm particularly thrilled that it's a board-book, and meant for very young children, as there is such a dearth of good early-childhood books in this vein! A wonderful gift for any toddler, whether the child of same-sex parents or not!