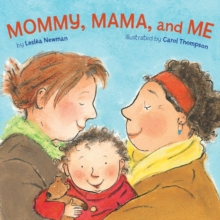 Mommy, Mama and Me
Board book
Information
Format: Board book
Pages: 32 pages, Full Colour
Publisher: Tricycle Press
Publication Date: 09/06/2009
Category: Picture storybooks
ISBN: 9781582462639
Free Home Delivery
on all orders
Pick up orders
from local bookshops
Reviews
Showing 1 - 5 of 19 reviews.
Previous | Next
Review by roethkegrrl
16/06/2015
This story, written in simple, rhythmic text paired with colorful illustrations, tells the story of a young child spending the day with its two mothers, Mommy and Mama. The book depicts domestic happiness and togetherness— eating, playing, being tucked in, etc. It is a sort of day-in-the-life of a toddler, and this could be any toddler, except for the fact that the parents are a same-sex couple. The events are mundane, but in this case normalcy is something of a political stance: the message here is, families with same-sex parents are just like any other family; this child is loved, happy and cared for by two mothers. (The book's target audience of preschoolers is not likely to read for multicultural content, of course, but the subtext is there nonetheless.) Young children from all sorts of background and family situations are likely to relate to the activities depicted in the book. For those who may not know any children with same-sex parents, this positive depiction will help to expand the definition of a family. For children of same-sex parents, seeing their own lives reflected positively in literature will be affirming. Librarians may want to include this ALAN Award winner in their children's collections as a multicultural and/or GLBTQ resource, or as a book to share with and recommend to families seeking depictions of same-sex parents. More broadly, the story could be used to help illustrate baby care or daily routines, perhaps for young children about to welcome a sibling into their homes. The story is told from the child's perspective, which could support interested discussions about point-of-view, talking about one's family and experiences, etc. In addition, the simple language and bright illustrations would work well in a read-aloud with young children.
Review by michelleraphael
16/06/2015
Just like "Daddy,Papa, and Me", this book has a homosexual couple in it. But like in the other, it shows how much they care for their child and how great of parents they are.
Review by klsulliv
16/06/2015
"Mommy, Mama, And Ma" provides beautiful illustrations and rhyming text that describes everyday activities of a child with two mommies. I feel that it is important to help children understand that diversity is more than just looking different. Diversity simply means being different, and I feel that it is important to expose children to understanding and learning about many things in life that they will eventually come in "contact" with or will eventually learn about anyway. Reading this book to your children is an excellent way to help them understand a little bit about homosexuality. When children understand, they are more likely to accept things that are different from their culture which is why it is important to help children learn about things that they do not understand.
Review by MFeil
16/06/2015
This book is just like Daddy, Papa, and me, but with moms. I love it! The gender neutral baby and attention to the family's life (rather than sexual orientation) is excellent! Books about "non-traditional" families allow for children of those families to connect with the text, and children of different families to be exposed to something new.Age range: 3 - 7 Years (B&N)
Review by christian.mehalic
16/06/2015
This book is a wonderful story that my professor showed one day in class, and it is short and quick enough read, that I read it right there. It is a story about a child who has two mothers. It has a somewhat small story line because it is more used as a way to explain to young children that some people have two mothers/fathers, and it is completely ok. There is nothing wrong with it and it does not change anything about you. only that you have two parents who love you very much.