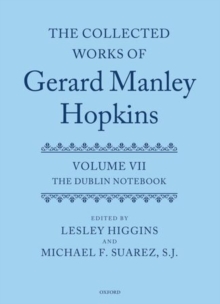 The Collected Works of Gerard Manley Hopkins : Volume VII: The Dublin Notebook
Hardback
Description
Hopkins's 'Dublin Notebook' provides intimate and rare access to the Jesuit poet's private, poetic, religious, and academic thoughts and words during his final years in Dublin.
In February 1884, Hopkins moved to Dublin from England to become a Professor of Classics at University College (entrusted to the Jesuits in 1883) and a Fellow at the recently-established Royal University of Ireland, an examining institution.
He lived at UC's St. Stephen's Green campus until 8June 1889, when he died of typhoid.
The 'Dublin Notebook' is a unique repository of personal memoranda, drafts of poems, lecture outlines, spiritual meditation notes, and academic notes, and sheds new light on the circumstances that produced Hopkins's 'Sonnets of Desolation' in the mid-1880s.
Thecontents include pages in which he tallied examination marks and commented on students' performances; intermittent musical jottings; lists of correspondents to whom he owed letters; attendance records; drafts of a short biography for publication; a commentary on Cicero; and preliminary versions of 'Sibyl's Leaves', one of his most exceptional poems. This edition, Volume VII in the Collected Works of Gerard Manley Hopkins, provides readers with a digitized facsimile of the manuscript, a detailed transcription of each page, and scholarly resources such as a historical and cultural introduction to Hopkins's Dublin years; an analysis of the notebook's contents; the editors' explanation of the manuscript and its challenges; translations of and citations for all classical quotations; and thorough annotations (including transcriptions ofhis musical compositions).
Other resources include a Biographical Register; documents related to Hopkins's academic appointments; sample examinations that he set for the Royal University; and edited versions of his study of Cicero's 'On Duty' and his biographical notice of Richard Watson Dixion, thePre-Raphaelite poet. The 'Dublin Notebook' sheds new light on Hopkins's life and inner torments, his wide-ranging artistic talents (and musical aspirations), his involvement in Ireland's vexed 'troubles' in the late nineteenth century, his harrowing spiritual and emotional condition, and the busy life of a burdened Classics professor.
Information
Format: Hardback
Pages: 336 pages
Publisher: Oxford University Press
Publication Date: 04/04/2014
Category: Diaries, letters & journals
ISBN: 9780199534029
Also in the Collected Works Gerard Manley Hopkins series | View all