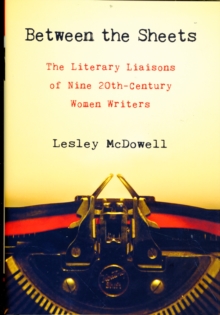 Between the Sheets : The Literary Liaisons of Ine 20th-Century Women Writers
Hardback
Description
Why did a gifted writer like Sylvia Plath stumble into a marriage that drove her to suicide?
Why did Hilda Doolittle want to marry Ezra Pound when she was attracted to women?
Why did Simone De Beauvoir pimp for Jean-Paul Satre?
The list of the damages done in each of these sexual relationships between female writers and their male literary partners is long, but each relationship provokes the same question: would these women have become the writers they became without the experience of their own particular literary relationship?
Focusing on the diaries, letters, and journals of each woman, "Between the Sheets" explores nine famous literary liaisons of the twentieth century.
Lesley McDowell examines the extent to which each woman was prepared to put artistic ambition before personal happiness, and how dependent on their male writing partners these women felt themselves to be.
She probes the consequences of the women's codependence and reveals how, in many instances, their partnerships liberated unspoken desires, encouraged artistic innovations, and even shored up literary reputations. Fascinating and absorbing, "Between the Sheets" is a marvelous read and an invaluable addition to the literature of feminism.
Information
Format: Hardback
Pages: 368 pages, Illustrations
Publisher: Duckworth Overlook
Publication Date: 17/06/2010
Category: Biography: literary
ISBN: 9780715639092
Also by Lesley McDowell