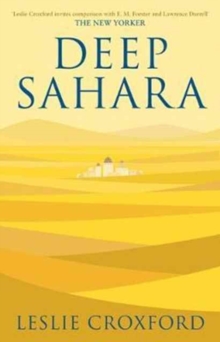 Deep Sahara
Paperback / softback
Description
Recovering from a nervous breakdown preceded by the death of his wife, Klaus Werner takes advice from a family friend and retreats to a monastery in the Algerian Sahara to sketch desert insects for a book.
Upon arrival, however, he discovers a fresh crime scene: the monks have all been slaughtered as they went about their daily routine.
Violent extremists, active in the area, are suspected.
Numb and exhausted, Werner declines a police chief s offer of safe passage.
Despite the shock of the murders, the desert seems to promise solace, a vast nullity against which Werner can take stock of himself and do his work.
Yet, over the weeks and months that follow, his solitude is broken by a succession of encounters with travelling hermits, desert warriors, an attractive American palaeontologist and others, all strangely connected to him.
Each appears to conceal some kind of secret; even the insects he has come to study are mysteriously deformed, embodying an awful, hidden reality ...
Soon Werner is forced to confront the echoes of one of the darkest moments in modern history, and to come to terms with the deepest reaches of his own past.
Deep Sahara is as suspenseful as it is a subtle exploration of one man s emotional resurgence, rendered sparingly and with great physical and psychological precision.
Information
Format:Paperback / softback
Pages:288 pages
Publisher:Momentum Books
Publication Date:12/06/2017
Category:
ISBN:9781911475125