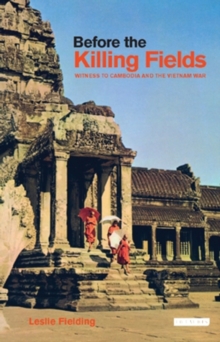 Before the Killing Fields : Witness to Cambodia and the Vietnam War
Hardback
Description
This is a gripping portrait of a country poised between peace and war.
In the mid-1960s, Cambodia's position within South East Asia was highly vulnerable.
The Americans were embroiled in war in Vietnam, the Viet Cong were gaining clandestine control over Cambodian frontier areas, while the Cambodian government - under the leadership of a charming but difficult Head of State, Prince Norodom Sihanouk - wanted nothing more than to preserve their neutrality and keep out of the war.
Highly distrustful of any perceived foreign interference, the Cambodians had even rioted and attacked the American and British Embassies in Phnom Penh and their debris was still strewn on the streets when Leslie Fielding arrived in the city.
Yet against this grim and dramatic backdrop, the daily round of international foreign policy somehow had to continue and "Before the Killing Fields" offers a compelling and fascinating account of how this was achieved.
As well as a political history this is also a portrait of an exotic but overlooked country at a critical stage in its development.
Violence, intrigue and even the supernatural mingle with issues of day-to-day management and office morale. From diplomatic meetings conducted in opium dens and dancing lessons with beautiful princesses at the Royal Palace to candid portraits of the rest of the international community of Phnom Penh, "Before the Killing Fields" is an illuminating insight into a lost world.
Information
Format: Hardback
Pages: 296 pages, Illustrated
Publisher: Bloomsbury Publishing PLC
Publication Date: 24/10/2007
Category: Asian history
ISBN: 9781845114930