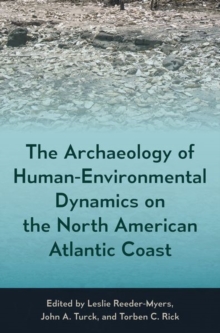 The Archaeology of Human-Environmental Dynamics on the North American Atlantic Coast
Hardback
Description
Using archaeology as a tool for understanding long-term ecological and climatic change, this volume synthesizes current knowledge about the ways Native Americans interacted with their environments along the Atlantic Coast of North America over the past 10,000 years. Leading scholars discuss how the region's indigenous peoples grappled with significant changes to shorelines and estuaries, from sea level rise to shifting plant and animal distributions to European settlement and urbanization.
Together, they provide a valuable perspective spanning millennia on the diverse marine and nearshore ecosystems of the entire Eastern Seaboard-the icy waters of Newfoundland and the Gulf of Maine, the Middle Atlantic regions of the New York Bight and the Chesapeake Bay, and the warm shallows of the St.
Johns River and the Florida Keys. This broad comparative outlook brings together populations and areas previously studied in isolation. Today, the Atlantic Coast is home to tens of millions of people who inhabit ecosystems that are in dramatic decline.
The research in this volume not only illuminates the past, but also provides important tools for managing coastal environments into an uncertain future. A volume in the series Society and Ecology in Island and Coastal Archaeology, edited by Victor D.
Thompson
Information
Format: Hardback
Pages: 320 pages, 15 black and white illustrations, 11 maps, 4 tables, references, index
Publisher: University Press of Florida
Publication Date: 30/11/2019
Category: Archaeology
ISBN: 9780813066134
Also in the Society and Ecology in Island and Coastal Archaeology series | View all