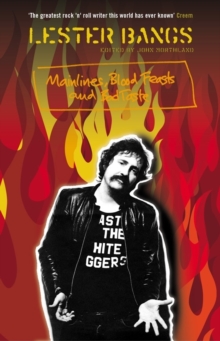 Mainlines, Blood Feasts and Bad Taste : A Lester Bangs Reader
Paperback / softback
Description
This companion to Psychotic Reactions and Carburetor Dung compiles fifty-four of Bang?s pieces, including several that are previously unpublished. Lester Bangs was for many the most intelligent and influential critic of rock and roll.
Twenty years after his death, interest in him continues, as shown by the recent critically acclaimed biography Let it Blurt, and his work still resonates with breathtaking insight and audacity.
This marvellous book, edited by John Morthland, Lester Bangs? friend, literary executor, and fellow rock critic, contains exerpts from an autobiographical work Bangs wrote as a teenager, as well as cultural rants and obsessive rages, and incisive reviews from throughout his career - from Black Sabbath as a Christian band, to Anne Murray as sex object, to Bob Dylan as a fraud, and, of course, the Stones, Lester Bangs?s favourite band and bete noir.
Endlessly entertaining, this book is a must for anyone with any interest in the history of rock and roll.
Information
Format: Paperback / softback
Pages: 416 pages
Publisher: Profile Books Ltd
Publication Date: 18/09/2003
Category: Rock & Pop music
ISBN: 9781852428235
Also by Lester Bangs