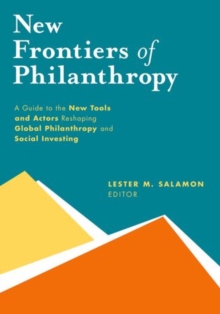 New Frontiers of Philanthropy : A Guide to the New Tools and New Actors that Are Reshaping Global Philanthropy and Social Investing
Hardback
Description
With the resources of both governments and traditional philanthropy barely growing or in decline, yet the problems of poverty, ill-health and environmental degradation ballooning daily, it is increasingly clear that new models for financing and promoting social and environmental objectives have become urgently needed. Fortunately, however, a significant revolution appears to be underway in the way in which social and environmental purposes are being financed.
The heart of this revolution is a massive explosion in the instruments and institutions being deployed to mobilize private resources in support of social and environmental objectives.
Where earlier such support was limited to charitable gifts, now a bewildering array of new instruments and institutions has surfaced-loans, loan guarantees, privateequity, barter arrangements, social stock exchanges, bonds, secondary markets, investment funds, and many more-all of them designed to leverage not just the tens of billions of dollars of philanthropic grants but the hundreds of billions, indeed trillions, of dollars of private investment capital. While the changes under way are inspiring and by no means trivial, however, they remain largely uncharted in any systematic fashion.
This monograph, and of the companion volume for which it also serves as the introductory chapter, is designed to overcome this problem, to provide the first comprehensible and accessible roadmap to the full range of important new developments taking place on the frontiers of philanthropy and social investment.
In the process, it seeks to broaden awareness of thesedevelopments, increase their credence and traction, and make it possible to maximize the benefits they can generate while acknowledging the limitations and challenges they also face.
Information
Format: Hardback
Pages: 768 pages
Publisher: Oxford University Press Inc
Publication Date: 15/07/2014
ISBN: 9780199357543
Free Home Delivery
on all orders
Pick up orders
from local bookshops