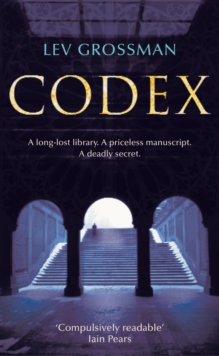 Description
A long lost library. A priceless manuscript. A deadly secret...About to depart on his first vacation in years, Edward Wozny, a young hot-shot banker, is sent to help one of his firm's most important and mysterious clients.
When asked to unpack and organise a personal library of rare books, Edward's indignation turns to intrigue as he realises that among the volumes there may be hidden a unique medieval codex, a treasure kept sealed away for many years and for many reasons.
Edward's intrigue becomes an obsession that only deepens as friends draw him into a peculiar and addictive computer game, as mystifying parallels between the game's virtual reality and the legend of the codex emerge and the lines between reality, fantasy and mysterious legend start to blur ...
Information
Format: Paperback
Pages: 384 pages
Publisher: Cornerstone
Publication Date: 14/05/2005
Category: Thriller / suspense
ISBN: 9780099491224
Free Home Delivery
on all orders
Pick up orders
from local bookshops
Reviews
Showing 1 - 5 of 7 reviews.
Previous | Next
Review by ian743
16/06/2015
An interesting story although a disappointing ending.
Review by pamplemousse
16/06/2015
Interesting, if not particulalry brilliant novel, about a quest for a mediaeval manuscript with a supposed hidden message. Yadda yadda yadda. But it rolls along at a nice pace. The protagonist is a young investment banker, who somehow gets asked to sort out a library for a wealthy client, and find a special book. He gets help from a grad-student specialist in mediaeval literature, and a geek friend whos into computer games.Something he could have made more of is the contrast between the worlds of library, computer gaming and finance -- they're all nerds in their own ways. But he doesn't. But still a good read.
Review by wyvernfriend
16/06/2015
An interesting story about an investment banker who is drawn into the search for a missing book. Meanwhile he's also drawn into a computer game which seems to parallel the tales told of the book.While it has several flaws and really has some seriously surreal moments that ring quite badly untrue, it does have moments where I recognised the firey zeal of a researcher.That having been said the story lacks a serious flow and the characters really lack depth, it would possibly have been better written from the first person.
Review by etimme
16/06/2015
I enjoyed the prose in this book quite a lot. Grossman's protagonist is a focused young professional that starts to lose his drive during a furlough between jobs, and the story of how he becomes engrossed in the legend of an author that might not exist is well told opposite a story that unfolds in a video game written by a man who also might not exist. The themes of discovery and internal reflection resonated with me, and "the journey being its own reward" was also an ongoing theme in this book that worked well. If anything, the ending of this book left me unsatisfied and wanting no ending at all. Having the story wrap up so conveniently seemed counter to the rest of the book.
Review by shanaqui
16/06/2015
I was all set to give this book a higher rating, really. The writing is not uncompelling -- I wouldn't say it's slick and fascinating prose, but it's not a turn-off, either. It's okay for lazy reading, and the descriptions are pretty good. Some parts are quite fascinating, particularly the descriptions of MOMUS.<br/><br/>Characterisation is shaky, though. I don't particularly care about any of the characters, or feel convinced by their relationships to each other. Edward, the main character, was blandly unobjectionable, really, and Margaret was no better. The Duchess could've been interesting, but there wasn't much of her. I didn't believe in any of Edward's motivations, either: it didn't make any sense.<br/><br/>And then the ending... nothing has changed since the first page of the book, really. Edward hasn't grown as a character at all. The status quo hasn't shifted so much as an inch. All the potentially interesting characters and plot exits stage left. It's an utter anticlimax. It's infuriating.