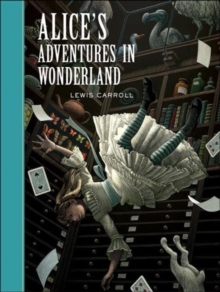 Alice's Adventures in Wonderland
Hardback
Description
One of the most magical concoctions in children's literature, Lewis Carroll's tale follows Alice into the upside-down, inside-out world of Wonderland and its fanciful creatures - the White Rabbit, March Hare, Mad Hatter, Queen of Hearts and Cheshire Cat.
The book has delighted readers of all ages since it was published in 1865, and this attractive edition will be cherished for years to come. "Sterling Children's Classics" is a new series presenting timeless classic works of fiction in handsome hardback volumes at an unbelievable price.
Parents, teachers, librarians and of course young readers will welcome these beautiful, unabridged editions of evergreen children's favourites.
Each beautiful book features: original full colour dust jacket artwork; three-piece cloth binding; the highest quality paper; detailed spot illustrations; and a ribbon page marker, It is a beautiful classic literature at a classic price!
Information
Format: Hardback
Pages: 136 pages, col. Illustrations
Publisher: Sterling Juvenile
Publication Date: 01/10/2005
Category: Classic
ISBN: 9781402725029
Other Formats
Paperback from £2.50
Leather / fine binding from £13.65
Hardback from £7.39
EPUB from £0.99
Free Home Delivery
on all orders
Pick up orders
from local bookshops
Reviews
Showing 1 - 5 of 5 reviews.
Review by joririchardson
16/06/2015
I read this book long ago while in middle school, and viewed it as simply a silly and nonsensical children's fantasy.However, I just re-read it, having become aware that this book is famous for it's allegoric philosophical and mathematical conceptions.The unbelievable, child like fantasy world of Wonderland is charming, and filled with things such as lakes made of tears, Mad Hatters, the Queen of Hearts, rabbit holes, and clocks that don't tell time.However, while this aspect is what meets the readers eye upon a first, cursory impression, this intricate book has far more depth, if you care to look.There is a strong sense of logic - almost in a satirical fashion, through-out the book. The concept of limit, inverse relationships, and mathematical logic is scattered through the plot, but mainly and most noticeably found at the Mad Tea Party and the first scene with the Cheshire Cat.Whether you care to look deeply into it, or simply leave "Alice in Wonderland" as a unique and inventive children's fantasy, this book is amazing!
Review by irunsjh
16/06/2015
I liked this book. It was different then what i had in my mind it would be. I think I have the Disney version stuck in my head. Which I know is a combination of both this book and Through the looking glass. Overall a good book, if not a little confusing at times. It seems to jump around more then I would like in places, but overall the story was an interesting one.
Review by jeffome
16/06/2015
i must be getting old....did not connect very well with this supposed timeless classic......just kind of strange...but it's ok....i'll be fine.....no longer have to say i never read it!
Review by MariaSavva
16/06/2015
I absolutely love this book. It's complete nonsense of course, but that's the great thing about it. Alice, a little girl, falls down a rabbit hole and enters Wonderland, filled with talking animals and strange creatures, and a pack of cards that has a life of its own. It's a dream, and like most dreams it makes absolutely no sense at all. It was one of my favourite books as a child, so I decided to re-read it after 30 odd years, and I'm glad I did. It made me laugh out loud.
Review by Kassilem
16/06/2015
I have this long list of books from BBC of the best literary books to read that I plan on going through. Most of the books on the list are books that I have heard others talking about for years. They are the classics that I feel I must read eventually to know anything about what is being said about them, and have something of my own to comment. This book was on the list. I've seen the Disney animation years ago and so that was what I was going off of for expectations. While it had its many differences as movies versus books are bound to have, it was at its core, the same – a little weird. I sort of enjoyed listening o the book but I was left with the feeling I had after watching the movie – what a curious story. Yet maybe the whole idea was about a child's imagination? I'm not sure. I do know that not much of the book made sense and yet that seemed to be the intent. As said in the summary this is a 'brilliant use of nonsense'. But the book isn't very long and while nonsensical, it is still a bit enjoyable.
Also in the Sterling Unabridged Classics series | View all