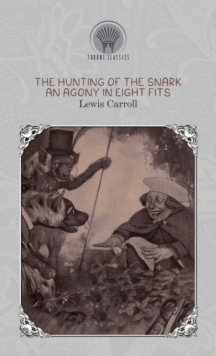 The Hunting of the Snark : An Agony in Eight Fits
Hardback
Description
After crossing the sea guided by the Bellman's map of the Ocean—a blank sheet of paper—the hunting party arrive in a strange land, and the Bellman tells them the five signs by which a Snark can be identified. The Bellman warns them that some Snarks are highly dangerous Boojums; on hearing this, the Baker faints. Once revived, the Baker recalls that his uncle warned him that if the Snark turns out to be a Boojum, the hunter will "softly and suddenly vanish away, and never be met with again." The Baker confesses that this possibility terrifies him.
The hunt begins:
They sought it with thimbles, they sought it with care;
They pursued it with forks and hope;
They threatened its life with a railway-share;
They charmed it with smiles and soap.
Along the way, the Butcher and Beaver, previously mutually wary, become fast friends after the Butcher gives the beaver a lesson on maths and zoology. The Barrister, meanwhile, sleeps, and dreams of witnessing a court trial of a pig accused of deserting its sty.
During the hunt, the Banker is attacked by a bandersnatch, and loses his sanity after trying to bribe the creature.
The Baker rushes ahead of the party, and calls out that he has found a snark, but when the others arrive, he has mysteriously disappeared, leading the narrator to explain: "For the Snark was a Boojum, you see."
Information
Format:Hardback
Pages:56 pages
Publisher:Throne Classics
Publication Date:19/08/2019
Category:
ISBN:9789353833954
Other Formats
Paperback / softback from £5.00
Hardback from £10.12