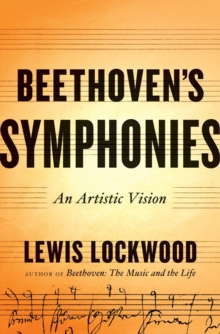 Beethoven's Symphonies : An Artistic Vision
Hardback
Description
The Beethoven symphonies form the core of the classical concert repertoire and remain among the defining works of the Western musical experience.
As the heir to Haydn and Mozart, Beethoven possessed an artistic vision that found its most powerful expression in the symphonic form, which he revolutionised and bequeathed to posterity.
Beethoven's Symphonies introduces each symphony and traces the background, set against the contemporary political upheavals, the growth of concert life and his other works.
Lewis Lockwood uncovers a creative process of remarkable scope and originality, including reference to ideas sketched out but not realised.
From the first symphonies to the monumental Ninth, his passion to compose works of transcendent value is brought to life.
Information
Format: Hardback
Pages: 304 pages, 10 illustrations; 10 music examples
Publisher: WW Norton & Co
Publication Date: 26/10/2015
ISBN: 9780393076448