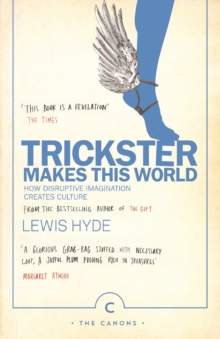 Trickster Makes This World : How Disruptive Imagination Creates Culture.
Paperback / softback
Part of the Canons series
Description
Trickster disrupted the world around him, and in doing so he reshaped it.
Playful, mischievous, subversive, amoral, tricksters are a great bother to have around, but they are also indispensable heroes of culture. Trickster Makes This World revisits the stories of Coyote, Eshu and Hermes and holds them up against the life and work of more recent creators: Pablo Picasso, Marcel Duchamp, John Cage, Allen Ginsberg, Maxine Hong Kingston and others.
Authoritative in its scholarship, supple and dynamic in its style, Trickster Makes This World encourages you to think and see afresh.
Information
Format:Paperback / softback
Pages:432 pages
Publisher:Canongate Books Ltd
Publication Date:06/04/2017
Category:
ISBN:9781786890504