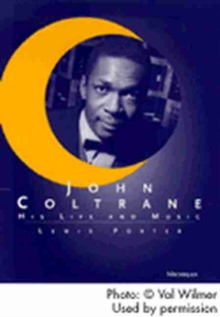 John Coltrane : His Life and Music
Paperback
Description
This is a definitive assessment of the life and work of jazz musician John Coltrane, based on new interviews with his colleagues and never-before-published material.
John Coltrane was a key figure in jazz, a pioneer in world music, and an intensely emotional force whose following continues to grow.
This new biography, the first by a professional jazz scholar and performer, presents a huge amount of never-before-published material, including interviews with Coltrane, photos, genealogical documents, and innovative musical analysis that offers a fresh view of Coltrane's genius.
Compiled from scratch with the assistance of dozens of Coltrane's colleagues, friends, and family, "John Coltrane: His Life and Music" corrects numerous errors from previous biographies.
The significant people in Coltrane's life were reinterviewed, yielding new insights; some were interviewed for the first time ever.
The musical analysis, which is accessible to the nonspecialist, makes its own revelations-for example, that some of Coltrane's well-known pieces are based on previously unrecognized sources. The Appendix is the most detailed chronology of Coltrane's performing career ever compiled, listing scores of previously unknown performances from the 1940s and early 1950s.
Coltrane has become a musical inspiration for thousands of fans and musicians and a personal inspiration to as many more.
For all of these, Porter's book will become the definitive resource - a reliable guide to the events of Coltrane's life and an insightful look into his musical practices.
Information
Format: Paperback
Pages: 448 pages, 8 fig, 18b&w photographs, 104 music example
Publisher: The University of Michigan Press
Publication Date: 28/01/2000
Category: Jazz
ISBN: 9780472086436
Free Home Delivery
on all orders
Pick up orders
from local bookshops
Reviews
Showing 1 - 2 of 2 reviews.
Review by BooksForDinner
16/06/2015
Meticulous and well written. Interesting how both this and the Monk bio I recently read had authors that would tend to drift into the first person occasionally. I guess you spend that meany years with a subject, you become part of the story, too.
Review by baswood
16/06/2015
I first heard John Coltrane on my transistor radio hidden under the bedcovers when I was a teenager. It was a broadcast from the Voice of America and hosted by WIllis Connover. I was a regular listener to those nightly broadcasts mainly because reception was marginally better than Radio Luxembourg my other favourite radio station. How difficult it was to hear new music in those days. The Voice of America were playing Om. (it stretched overs both sides of the LP) and the sounds coming from my radio were electrifying; I had never heard such passionate playing, I had never heard such dissonance before. In fact I realise now that I hadn't caught the introduction to the music and was relieved that the radio reception held out long enough for the slow American drawl of Willis Connover to announce "that was the John Coltrane Group". No one I knew had ever heard of John Coltrane and it was a couple of weeks later that I managed to get to Dobell's record shop in Charring Cross Road where there were quite a few of his LPs, but they didn't have Om, so on the advice of the shop manager I came out clutching "A Love Supreme" (you could clutch LPs you cant really clutch CDs in the same way) and so started my love affair with the music of John Coltrane. I had seen Porter's book in my local book store in a French Translation and a quick flip through it revealed that there seemed to be a whole lot of musical theory and I put it back down thinking it would be beyond my comprehension. Having it in the original English helps and I felt more confident that at least I would now be able to get to grips with some of the technical stuff. It must be the definitive biography because not only does it document his life and times on the jazz scene, but it also explains in some detail what Coltrane was trying to achieve in his music. In Coltrane's own words it was pretty significant:"My music is the spiritual expression of what I am - my faith, my knowledge, my being.....When you begin to see the possibilities of music, you desire to do something really good for people, to help humanity free itself from its hangups. I think music can make the world better and, if I'm qualified, I want to do it. I'd like to point out to people the divine in a musical language that transcends words. I want to speak to their souls."Well he did it for me, I had very little knowledge of jazz at that time, but "A Love Supreme" has remained my all-time favourite record, as it has with many people because it is one of the best selling jazz CDs of all time. Not many people would have understood what Coltrane was doing on that record, especially as three quarters of it is played at a furious tempo and Coltrane solos on tenor saxophone at length, playing music that has very little discernible melody, however the slow final track is one of great beauty and that would have pleased most of the customers. Porter says that it is the bluesy, earthy quality of Coltrane's sound that draws people in and he may be right, because at the time of it's release "A Love Supreme" was at the cutting edge of avante garde jazz. Porter explains at some length why the music is so significant by transcribing in musical notation some extracts from Coltrane's improvisations and so if you are not at home with scales, chords, modality and tonality, then much of this will pass you by. John Coltrane was not a child prodigy he showed few signs in his early childhood of special musical talent, but he had an obsessive personality and that obsessiveness found it's way out through music. Once he had latched onto music he spent most of his waking hours practising. He did not come to national prominence until he was in his thirties when he became a member of Miles Davis's group. Davis himself was pushing at musical boundaries, but in the end was not going fast enough for Coltrane and after over three years he left to form his own group and one of the first records he made was the aptly titled "Giant Steps" which stood the jazz world on its head. Never before had such technical skill been married with the changes he introduced to playing the chords at such a fast tempo. The music was innovative, but Coltrane's restless searching for the perfect expression through music took him into the realms of free jazz where he abandoned chords altogether and then finally rhythmic structure. Porter charts expertly the musical development of the man who had made himself into a genius. It is no surprise that a Biography about a man obsessed by music should be about music, but Porter also manages to fill in the personal details. Like many musicians in the jazz world Coltrane fought a battle with drug addiction and this story is well told as is the workings of the record industry and the concert scene at the time. Porter intersperse his narrative with transcripts from interviews with Coltrane and from stories about him from colleagues and family. All of this is very well researched and nothing stands out as being anything else than true remembrances.Within two years of my discovering John Coltrane he had died (1967), but as one of the most recorded artists in jazz there has been plenty of music to catch up on. Porter's book does not include a discography, because that is a subject for a whole book in itself and there is still plenty of his music to be released it would seem and so this is an on-going project. I loved this book even though I did not understand all the musical theory; I think there is enough here to hold the attention of anybody interested in Coltrane or in music. Five stars.
Also in the The Michigan American Music S. series