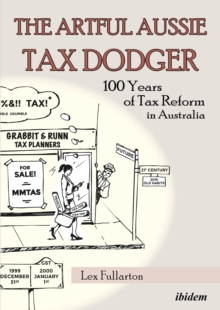 The Artful Aussie Tax Dodger - 100 Years of Tax Reform in Australia
Paperback / softback
Description
In The Artful Aussie Tax Dodger Lex Fullarton studies the impact of 100 years of taxation legislation in Australia 1915-2016.
He finds that despite the lessons of a century of actions and reactions of taxpayers and administrators little changes -- despite entering a new century old habits are hard to break.
At Federation on 1 January 1901, the Commonwealth of Australia was empowered to impose income tax on its citizens.
However, it was not until 3 September 1915 that it began a century of tax reform when its first Income Tax Assessment Act was introduced.
For 100 years, driven by the winds of various political and social interests, Australia reviewed and reformed its tax legislation.
Fullarton studies that transformation. Fullartons examination considers the oldest of tax planning entities -- the British Trust (received in Australia at colonisation) -- the introduction of Australias reformed consumption tax -- its VAT, referred to as Goods and Services Tax (GST) in Australia -- an analysis of tax avoidance schemes, and finally government taxation reform activities over the century.
Fullarton notes that, just one year into a new century of taxation, the Australian Federal Government put forward a proposal to go forward to the past by repealing certain sections of the Income Tax Assessment Act and transferring Income Taxing powers back to the Australian States, a position which existed prior to 1936.
This book looks at how Australias tax legislation was grounded, added to, avoided, and evolved, until it went Back to the Future.
It is a collection of studies compiled from a rich mosaic of experience and research conducted over 20 years of involvement in taxation law in rural and remote Australia.
Information
Format: Paperback / softback
Pages: 350 pages
Publisher: ibidem-Verlag, Jessica Haunschild u Christian Scho
Publication Date: 30/05/2017
Category: Taxation
ISBN: 9783838209944
Free Home Delivery
on all orders
Pick up orders
from local bookshops