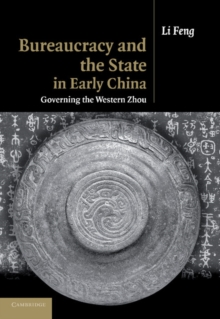 Bureaucracy and the State in Early China : Governing the Western Zhou
Paperback / softback
Description
Ancient Chinese society developed a sophisticated and complex bureaucracy which is still in operation today and which had its pristine form in the government of the Western Zhou from 1045 to 771 BC.
Li Feng, one of the leading scholars of the period, explores and interprets the origins and operational characteristics of that bureaucracy on the basis of the contemporaneous inscriptions of royal edicts cast onto bronze vessels, many of which have been discovered quite recently in archaeological explorations.
The inscriptions clarify the political and social construction of the Western Zhou and the ways in which it exercised its authority.
The discussion is accompanied by illustrations of the bronze vessels and their inscriptions, together with full references to their discovery and current ownership.
The book also discusses the theory of bureaucracy and criticizes the various models of early-archaic states on the basis of close reading of the inscriptions.
Information
Format: Paperback / softback
Pages: 400 pages
Publisher: Cambridge University Press
Publication Date: 25/10/2012
Category: Politics & government
ISBN: 9781107405844
Free Home Delivery
on all orders
Pick up orders
from local bookshops