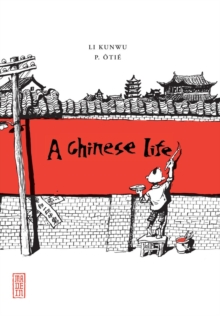 Description
Li Kunwu's story is a personal one that is inextricably linked to his three decades as a propaganda artist for the Communist Party.
We're taken on a journey from 1949, through the Cultural Revolution, to the present day.
Information
Format: Paperback
Pages: 720 pages, Illustrations
Publisher: SelfMadeHero
Publication Date: 26/07/2012
Category: True stories
ISBN: 9781906838553
Free Home Delivery
on all orders
Pick up orders
from local bookshops
Reviews
Showing 1 - 3 of 3 reviews.
Review by satyridae
16/06/2015
Wow, what an incredible journey Li & Otie take us on in this sweeping graphic novel that covers a life in China from 1950 through 2010. The sweep of the changes set in motion by Chairman Mao, and what happened after, are engrossing. I have a better feel now for what it was like, a tiny window into a monumental place. So much change and at the same time, so much acceptance, so much forgetting. Absolutely fascinating and highly recommended.
Review by yeremenko
16/06/2015
An excellent book. A biography of a man that grew up during the great famine and the cultural revolution. The book does not gloss over the details of China's darker past. Well not too much. Li Kunwu is a member of the Chinese Communist party so he gives the Tiananmen Square protests of 1989 as dismissive paragraph, but does admit they happened. But his explanation, that the crackdown, including the deaths are seen in China as just part of progress, though shocking, give an honest appraisal shared others in his nation. Exceptional art accompanies the remarkable story. .
Review by Claire5555
16/06/2015
A fabulous black & white graphic novel book about life in China from 1949 to the present day, really interesting, explaining many segments of Chinese History during this period. Lots about Chairman Mao and Chinese History through the eyes of an average man. It is funny in parts, like when in the early pages, it described how parents were tying to get their young children (who do not yet speak) to say with their first words, good things about Chairman Mao or singing "The East is Red" instead of the first words being mammy & daddy!!! Did this really happen? This book introduces many events that I did not expect. Much thought as been given to this books story line, which I think is exceptional, this is the first time I have read any of established author Li Kunwu work, and I have to say that I am very impressed, very impressed indeed, this book will appeal to people interested in learning about Chinese History in a different, more relaxed kind of way, that the normal academic path. I didn't expect much from a black and white novel, but gave it a chance and was highly impressed.....