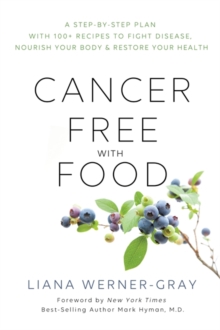 Cancer-Free with Food : A Step-by-Step Plan with 100+ Recipes to Fight Disease, Nourish Your Body & Restore Your Health
Paperback / softback
Description
If you want to fight cancer, what should you eat?Food is medicine.
By now, this important message has made its way from holistic circles to the mainstream.
To ward off cancer and decrease its risk, meals specially formulated to nourish, soothe, and fortify can be an important part of treatment.
But what foods work best? That remains frustratingly elusive and time-consuming to research. Happily, author Liana Werner-Gray - known for her best-selling books including The Earth Diet and 10-Minute Recipes - has done the research for you.
Within these pages she has gathered the best foods for various types of cancer, along with 195 simple and tested recipes created to boost your immune system and promote healing.
Designed to work on their own or in conjunction with other therapies, these healthy and appealing meals can also be tailored for a gluten-free, keto, vegan, and paleo diet. - For skin cancers, try Walnut "Meatballs" (page 210)- For lung cancer, try Cauliflower Popcorn (page 223)- For breast cancers, try an Orange Arugula Avocado Sesame Seed Salad (page 249)- For prostate cancer, try Vanilla Pudding (page 335)- For liver cancer, try Bentonite Clay Drink (page 193)"An extraordinarily relevant book . . . Cancer-Free with Food is medicine for the 21st century."- Mark Hyman, M.D., director, Cleveland Clinic Center for Functional Medicine
Information
Format:Paperback / softback
Pages:416 pages
Publisher:Hay House Inc
Publication Date:23/04/2019
Category:
ISBN:9781401956424