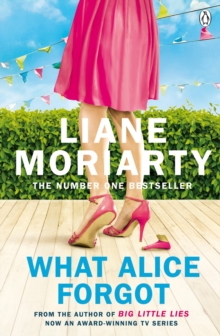 What Alice Forgot
Paperback
Description
What Alice Forgot is a compelling story about relationships, staying true to yourself and embracing all life has to offer, from the bestselling author of the hit HBO series Big Little Lies.Alice can't remember the last ten years of her life.
She doesn't recognise her children, her husband, herself . . .Alice is twenty-nine. She adores sleep, chocolate, and her ramshackle new house.
She's newly engaged to the wonderful Nick and is pregnant with her first baby.There's just one problem.
All of that was ten years ago . . .Alice has slipped in a step-aerobics class, hit her head and lost a decade.
Now she's a grown-up, bossy mother of three in the middle of a nasty divorce and her beloved sister Elisabeth isn't speaking to her.
This is her life but not as she knows it.Clearly Alice has made some terrible mistakes.
Just how much can happen in a decade?Can she ever get back to the woman she used to be?'Gripping, thought-provoking and funny' Marie Claire'The perfect holiday read' She'A call to embrace life' Easy Living
Information
Format: Paperback
Pages: 512 pages
Publisher: Penguin Books Ltd
Publication Date: 27/05/2010
ISBN: 9780141043760
Free Home Delivery
on all orders
Pick up orders
from local bookshops
Reviews
Showing 1 - 5 of 15 reviews.
Previous | Next
Review by kiwifortyniner
16/06/2015
In this book the main character Alice wakes from a dream to find that she has been injured at the gym and has lost all memories of the last ten years of her life. She thinks she is happily married and expecting her first child when in actual fact she has three children and is in the process of divorcing her husband Nick. Over the days that follow she meets again her three children, her husband Nick and her sister ELizabeth who seems very cold to her. Gradually the memories begin to come back and Alice is forced to realise that she is a different person from the person she was ten years ago and that there are things about this new Alice that she does not like. What kind of person does she want to be, and what about the relationships between her and NIck? Can she save her marriage? Does she want to? Who is this person Gina that everyone else is talking about and what part does she play in things? This was a good read. I was not able to put it down. She builds up the suspense well and reveals the information gradually. Other issues such as IVF are also dealt with in the book.
Review by nicx27
27/01/2016
Alice Love has hit her head at the gym and now, instead of being a 39 year old, yummy mummy type, involved in everything at her children's school, she believes she is the 29 year old dippy woman, newly married to gorgeous Nick and pregnant with her first child that she was ten years ago. She has forgotten the last ten years of her life, including her three children and everything that has happened in her marriage.Like Big Little Lies, I thought this got off to a slightly slow start but then I just got engrossed in it and loved it. I really liked how the story unfolded for me as it did for Alice, as she found out some of the things that had happened to her over the last ten years. I also couldn't wait to see how the whole thing ended up. I thought this was plotted well and I liked the characters. I love this author's writing.
Review by lovejoy_rat
16/06/2015
I felt like I was a touch too young for the themes of this book, tho I could appriciate their effect on the characters. I just couldn't identify with 39 year old Alice's life. I felt myself liking 29 year old Alice so much more than "normal" Alice, and felt that she somehow lost some of her fun over the 10 years she forgets. I feel this is because I'm reading the book from a 28 year old viewpoint, where I haven't encountered the types of struggles that Alice lived through in her 30's. I also got frustrated with the book's views on adoption - if you know me, you'll know why. So I was quite frustrated and annoyed with Elizabeth's IVF struggles, with take up a lot of page space. Overall a good women's lives and relationships read, altho I would say it a touch too dark for a beach read, and it also felt about 50 pages too long.
Review by shelleyraec
16/06/2015
Alice swims back into consciousness after a fall in her aerobic step class. She is worried about the baby she is carrying, at age 29, but in 1998, she is content in her marriage, happy with her life and can't really imagine anything going wrong. Except something doesn't seem quite right, her stomach is flat, her husband won't answer the phone and she can't imagine what she was doing in an exercise class in the first place. She is stunned to discover it is 2008, amnesia has robbed her of her memories of the last ten years. Alice's much anticipated baby is 9 years old and has been joined by two siblings, she is in the middle of a bitter divorce and can't remember any of it.Alice's struggle to reconcile her 29 year old mind set with her 39 year old self resonates with with me and I think would do so with many women. We have a vision when we first get married and start a family which rarely includes yelling your mother's well worn phrases at your children, juggling the overflow of bills and bickering with your much loved husband over the emptying the garbage bins ten years later. I admit, a time or three I've stopped and wondered how on earth I got <i><b>here</b></i> Most of the time change happens when you aren't paying attention, little everyday things begin to shape you in new ways, every minor either conscious or unconscious decision leading to another. This is the driving theme behind this thought provoking book, and is explored through Alice's amnesia, her sister's diary entries and her 'grandmothers' blog.Alice discovers that she can barely comprehend the person her family and friends recognise her as in 2008. She is bewildered by the path her life has taken and struggles with becoming an instant mother of three unfamiliar children and is heartbroken by her shattered marriage. The Alice of 1998 is a likeable spirit whereas the Alice of 2008 seems to be a brittle woman. Piecing together the events of the last ten years to show where things went wrong is a subtle process and Moriarty is careful to examine them from several perspectives.Elisabeth's story is told in the form of journal entries for her therapist. Much of the last ten years for her has been defined by infertility issues, an obsession that has prevented her from moving forward in her life. Alice's amnesia forces her sister to examine her own life and come to some surprising conclusions.Frannie's blog entries, and the information we learn about her, provides an interesting contrast to Alice's and Elisabeth's story. Her posts explore the theme of acceptance, of a life lived and choices made but while Fran is thinking her life is over, there are still choices to be made.The epilogue is perhaps a bit twee but I surprised myself by being desperate for a happy ending for Alice and literally breathed a sigh of relief. I had become invested in her story, perhaps because of some parallels to my own life. What Alice Forgot is a compelling read which will resonate with women who are not sure quite how they ended up in the life they are living. I feel that the style of writing gives the impression of a lighthearted chic lit novel, but disguises a book with surprising intensity, and the reader's experience of it will likely be determined by their own circumstances. Entertaining, beautiful and poignant, I couldn't out What Alice Forgot down.
Review by Carolinejyoung
16/06/2015
How wonderful to have a second chance to put things right! That's what I naively thought when I started to read this book. I say naively because I realised that I was being simplistic as our circumstances change and it's unrealistic to think that we shouldn't have to change to adapt. I liked the way this book made me face these facts whilst still retaining a positive feel and I particularly liked the way that the author tied up all of the loose ends as I really do not like to be kept wondering!