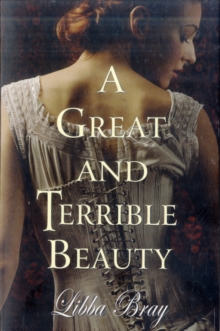 Great and Terrible Beauty
Paperback
Description
It's 1895, and after the death of her mother, 16-year-old Gemma Doyle is shipped off from the life she knows in India to Spence, a proper boarding school in England.
Lonely, guilt-ridden, and prone to visions of the future that have an uncomfortable habit of coming true, Gemma's reception there is a chilly one.
To make things worse, she's being followed by a mysterious young Indian man, a man sent to watch her.
But why? What is her destiny? And what will her entanglement with Spence's most powerful girls - and their foray into the spiritual world - lead to?
Information
Format: Paperback
Pages: 416 pages
Publisher: Simon & Schuster
Publication Date: 02/05/2006
Category: Historical
ISBN: 9780689875359
Free Home Delivery
on all orders
Pick up orders
from local bookshops
Reviews
Showing 1 - 5 of 10 reviews.
Previous | Next
Review by wyvernfriend
16/06/2015
Interesting but in some ways unsatisfying. Rooted firmly in the real life of victorian girls. After her mother's death Gemma is sent to a victorian boarding school. Prone to visions that come true, Gemma finds it hard to fit in. With warnings to avoid her powers she is being followed by a young man. She starts to use her power but it seems to be trying to take her life over, and there's a darkness there that's trying to overwhelm her.I was left wanting more out of this book, the conclusion seemed a bit simplistic to me and in the realm of imagination surely it's nearly impossible to destroy everything without almost destroying your own life. Still it would satisfy older female teen readers who are looking for a step up from Harry Potter. Finding that it's the first in a sequence of three novels improves the ending somewhat.
Review by library_girl27
16/06/2015
A popular YA book about the supernatural powers of a young girl, Gemma, 100 years ago. VERY ODD! But also very intriguing. Intriguing enough that I kept reading and am super excited for the third book in the series that comes out in Dec 07. This book is about Gemma moving to England to live at a boarding school and her discovery of her powers. I enjoyed it and suggest it for you to read--but be prepared for oddness.
Review by jensha
16/06/2015
Gemma's mother dies in mysterious circumstances so she leaves India and finally gets to go to the boarding school in England she's been hoping for; meets the challenges of her own powers and pwerful cliques; this book gets better and better as it progresses and the look at cliques/class warfare is really interesting; burgeoning feminism; some mention of sex
Review by The_Book_Queen
16/06/2015
I love this book- it's the best book out there, describing not only some fantasy, but also how a lot of girls at this age feel.
Review by kenck4
16/06/2015
At first the books is a bit slow. Gemma is a young girl in Victorian India. In here desire to become more independent she lashes out at restrains put on her. Tragedy ensues as her mother is killed at a marketplace. Gemma now has to go to an England she never knew and finds friends (?) and a fantasy world. Is it as good as it appears?I enjoyed the direction that Gemma and her friends take as the explore the occult fantasy world then enter.