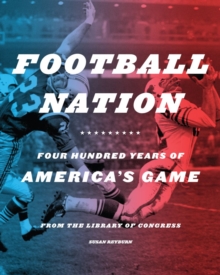 Description
Football Nation: Four Hundred Years of America's Game from the Library of Congress is an unprecedented look at football from its early days in colonial America to the professional and college game in the twenty-first century.
This visually stunning social and cultural history contains nearly 400 images, many rare or never before published, including memorabilia, cartoons, fine art, and game photographs.
The lively text examines how the game acquired its distinct American style, survived attempts to kill it, and became the country's dominant sport, while coping with wartime, social change, intensifying fan participation, and corporate influence.
Throughout the book, illustrated features explore the history of the fight song, tailgating, and cheerleading; how Hollywood has portrayed the game and its players; the long-running role of women in football; and the impact of game-changing personalities from pioneer Walter Camp to Coach Vince Lombardi to contemporary player agents. (Indeed, no other football book includes such a diverse range of figures as Abigail Adams, Nathan Hale, Confederate general James Longstreet, Al Capone, Queen Elizabeth II, John Lennon, Hirohito, several U.S. presidents, and Peyton Manning.) Quite simply, this book reveals how the United States came to be Football Nation. "With hundreds of illustrations from the incomparable collections of the Library of Congress this is a book to treasure, not just read.
The casual fan will be enchanted; the scholar will find something new on every page." -Dr. Michael Oriard, an English professor and dean at Oregon State University, former All American offensive lineman at Notre Dame, former NFL player, and the author of Brand NFL: Making and Selling America's Favorite Sport "Football Nation is an awesome read and unlike any other sports history I've come across.
It's great to see how the game evolved in America and how it's been a part of our history since the beginning." -Eli Manning, two-time Super Bowl MVP and quarterback for the New York Giants Praise for Football Nation: "Visually, this coffee-table book on football is a gem, featuring an abundance of black-and-white and color photographs . . . this attractive and intelligent retelling of the growth and history of the game will appeal equally to college and pro-football fans." -Library Journal "Sharp text . . . feast of archival material includes photos, drawings, reproduced magazine and newspaper extracts." -BookPage.com "A multifaceted, pictorial perspective on America's favorite sport." -Shelf Awareness
Information
Format: Hardback
Pages: 256 pages
Publisher: Abrams
Publication Date: 01/10/2013
Category: American football
ISBN: 9780810997622
Free Home Delivery
on all orders
Pick up orders
from local bookshops