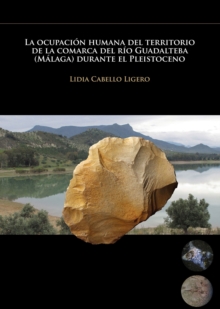 La ocupacion humana del territorio de la comarca del rio Guadalteba (Malaga) durante el Pleistoceno
Paperback / softback
Description
This investigation exhaustively gathers the archaeological evidence of the Palaeolithic human settlement in the Guadalteba river region (Malaga, Spain) during the Pleistocene.
The main objective is to show the direct relationship between the reservoirs and the sources of raw materials, located in the fluvial terraces, in the geological outcrops and in the surface deposits.
An important part of the work has been the geoarchaeological and archeometric surveys and the analysis of new lithic collections from surface archaeological surveys and recent systematic archaeological excavations in the Ardales Cave and Las Palomas de Teba Sima.
In this sense, the methodological tools of other disciplines were used.
Geoarchaeology enabled an understanding of the sedimentary and Post -depositional processes affecting the deposits and consequently its lithic industry.
Archaeometry helped to see the petrographic features of lithic assemblies of deposits.
These disciplines have been fundamental to propose a settlement pattern and mobility of these groups of Palaeolithic hunter-gatherers during the Pleistocene period in the interior of the province of Malaga, laying down a basic structure for future prehistoric investigations in the area.
Spanish Description: Una investigacion que recoge de manera exhaustiva las evidencias arqueologicas del poblamiento humano Paleolitico en la comarca del rio Guadalteba (Malaga, Espana) durante el Pleistoceno.
El objetivo principal es mostrar la relacion directa entre los yacimientos y las fuentes de materias primas, localizadas en las terrazas fluviales, en los afloramientos geologicos y en los propios yacimientos.
Destacar la importancia del analisis del registro arqueologico de superficie, donde la prospeccion se convierte en la herramienta mas efectiva para detectar yacimientos que han permanecido al aire libre, sobre todo del Paleolitico inferior y medio.
De igual forma cobra especial relevancia el reconocimiento y la caracterizacion espacial y territorial, donde el artefacto se convierte en la unidad basica de investigacion.
Parte importante del trabajo han sido los muestreos geoarqueologicos y arqueometricos y el analisis de los nuevos conjuntos liticos procedentes de las prospecciones arqueologicas superficiales y de las recientes excavaciones arqueologicas sistematicas, realizadas en la Cueva de Ardales y en la Sima de Las Palomas de Teba.
En este sentido, hemos utilizado herramientas metodologicas de otras disciplinas, como la Geoarqueologia, para comprender los procesos sedimentarios y postdeposicionales que afectan a los yacimientos y en consecuencia a su industria litica, y la Arqueometria, para ver las caracteristicas petrograficas de los conjuntos liticos, disciplinas fundamentales para proponer un patron de asentamiento y movilidad de estos grupos de cazadores-recolectores del Pleistoceno.
Este trabajo constituye un hito en la investigacion del Paleolitico en el interior de la provincia de Malaga, convirtiendose en una estructura basica para futuras investigaciones prehistoricas en la zona.
Information
Format: Paperback / softback
Pages: 234 pages, Illustrated throughout in black & white
Publisher: Archaeopress
Publication Date: 30/06/2017
Category: Prehistoric archaeology
ISBN: 9781784916121
Free Home Delivery
on all orders
Pick up orders
from local bookshops