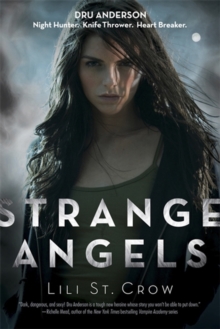 Strange Angels : A Strange Angels Novel
Paperback
Description
Dru Anderson: Night Hunter. Knife Wielder. Heart Breaker. Dru can sense evil, which helps when she and her Dad are tracking down ghosts, suckers, wulfen, and the occasional reanimated corpse.
It's a dangerous life, but it's the only one she knows. Then Dru's dad turns up dead and she suddenly finds herself in the middle of a deadly game where every move she makes could be her last.
Dru is more special than she realizes - and whatever killed her dad could be coming for her next.
Can Dru stay alive long enough to fall for one - or both - of the guys hungry for her affections?
Find out in the heart-stopping first book in a thrilling series.
Information
Format: Paperback
Pages: 304 pages
Publisher: Hachette Children's Group
Publication Date: 01/09/2009
Category: Horror & ghost
ISBN: 9781849161251
Free Home Delivery
on all orders
Pick up orders
from local bookshops
Reviews
Showing 1 - 1 of 1 reviews.
Review by AverysBookNook
16/06/2015
CONTAINS MULTIPLE STORYLINE SPOILERS..."Strange Angels" is one of the better books I have read in awhile, however (isn't there always a "however?")... I found this storyline to have been played out so many times before.For example, comparing "Strange Angels" with the "Supernatural" TV series. Dean and Sam Winchester's father is a hunter, he hunts all of those nasty magical beings inhabiting the world, as does Dru's father. Sam, Dean and Dru all grow up surrounded by the hunting practices, that they just become entirely entrenched in it. Also, Sam, Dean and Dru's mothers are both killed by a magical being, as are both fathers.This book then compares to "The Mortal Instruments" Series by Cassandra Clare. In this series, Clary, the main character has a best friend Simon who has feelings for her. When Clary finds out that she is a shadowhunter, she unknowingly drags Simon into the magical world, in which he finds himself transformed into a vampire. In "Strange Angels", Dru unknowlingly drags her friend Graves (who we can assume has feelings for her as the story progresses), into her world, in which he is tranformed into a partial werewolf. Like Clary, Dru finds her powers manifesting themselves. Furthermore in "The Mortal Instrument" series, Simon has feelings for Clary and Clary does begin to start to exhibit her feelings for Simon, until along comes Jace, a better looking, mysterious boy who catches her eye, much like in "Strange Angels", where Graves appears to have feelings for Dru, and when she begins to mention her heart speeding up in seeing him, along comes Chris, a more attractive boy in whom Dru is mysteriously attracted to, both new comer boys having information that will forever change the girl's lives.Futhermore, this story compares to "The Summoning" by Kelley Armstrong, as both Chloe (from "The Summoning") and Dru discover that their mothers are not the person that they think they are, as well as both being dead. Chole's mother fails to mention to she has the ability to raise the dead, whereas Dru's mother fails to let her know that she is part vampire, therefore leaving both girls with powers that they do not fully comprehend. Also, both Chloe and Dru find out that someone has betrayed them, putting them both in extreme danger.All in all, I really did love this book (I had to run out and order it the day after reading it for my own copy- while ordering the sequel "The Betrayals") and though I did find it repetitive with many of the books out there, I didn't really mind (mainly because if it is magicky, I am all over it), whereas others may find the over told plot line a bit exhausted.I also do recommend to anyone who likes this book to read the other books that I mentioned in this review and to check out "The Betrayals".
Also in the Strange Angels series | View all