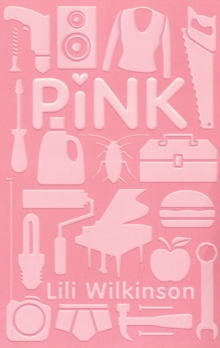 Description
The pink jumper was practically glowing in my grey bedroom.
It was like a tiny bit of Dorothy's Oz in boring old black-and-white Kansas.
Pink was for girls.Ava Simpson is trying on a whole new image.
Stripping the black dye from her hair, she heads off to the Billy Hughes School for Academic Excellence, leaving her uber-cool girlfriend, Chloe, behind.Ava is quickly taken under the wing of perky, popular Alexis who insists that: a) she's a perfect match for handsome Ethan; and b) she absolutely must audition for the school musical.But while she's busy trying to fit in - with Chloe, with Alexis and her Pastel friends, even with the misfits in the stage crew - Ava fails to notice that her shiny reinvented life is far more fragile than she imagined.'Pink is laugh-out-loud and cringe-in-corners funny.
An ouch-sharp, thoroughly modern comedy.' Simmone Howell'I laughed, I cried and I occasionally burst into song.' Justine Larbalestier'Fun, razor-sharp, and moving, Pink - like love - is a many-splendoured thing.' John Green
Information
Format: Paperback
Pages: 300 pages
Publisher: Allen & Unwin
Publication Date: 01/08/2009
Category: General
ISBN: 9781741758344
Free Home Delivery
on all orders
Pick up orders
from local bookshops
Reviews
Showing 1 - 3 of 3 reviews.
Review by LarissaBookGirl
16/06/2015
Ava is a teenager trying to please everyone, by the grades she gets, the clothes she wears, even the food she eats. But is this really what she wants? Or who she is?Ava isn't so sure, at least not anymore. She isn't sure about a lot of things in her life, but one thing she is sure about is that it's time for a change; new friends, new experiences, a new school, and maybe even a new Ava. But will she be able to hold on to her old life while creating a new one?Confused and on a mission to find herself, to find who she really is, Ava strives to reinvent herself. All she wanted was to be normal, be like everyone else and to fit in, to belong. But was this too much to ask; was she so different that she couldn't fit in anywhere? and has she reinvented herself so much that instead of finding herself, she has lost who she is in a web of new clothes and lies? Or is it possible that through all the secrets shared and mistakes made that Ava is able to learn about life, love and herself.This book is a great read for any teenager girl. It is both clever and humorous, and at times embarrassingly honest. It deals with the question of identity and show its alright to be unsure; that life is never simple and neat, but messy and screwed up. It is not afraid to show the important issues faced by teens; that of family, friendships, relationships, sexuality, peer pressure, drugs and the need for acceptance.
Review by stephxsu
16/06/2015
Smart and pink-loving Ava Simpson wants a chance to be normal. So she leaves behind her girlfriend, the cool and sophisticated Chloe, for a new school, and eagerly dives into a new life filled with girly clothing, challenging academics, hanging out with the "Pastels," and crushing on a hot boy.But what is normal, anyway? And, more importantly, who is Ava? When Ava joins the stage crew and befriends a quirky group of geeks, she feels torn between Chloe, the Pastels, and these "Screws." But juggling all these different identities is not easy, and Ava has to figure out who she is before she loses everyone.THAT'S IT. Upon my college graduation this May, I am packing up my worldly possessions and moving to Australia, land of infinite YA talent. I have been fortunate enough to read a number of wonderful Aussie YA authors—Cath Crowley, Kathy Charles, and Kristy Eagar—but Lili Wilkinson's PINK raised in me the rare and wonderful feeling of wanting to walk up to everyone I see and go, "This book. Oh my word. It's…words fail me in describing its awesome. READ IT." I'm going to equate this feeling to the one I got when I finished Robin Brande's Fat Cat, still one of my favorite books ever, and then gushed endlessly about it for years and years and tell people repeatedly that they need to read it.So. *breath* Let's begin to explain why PINK is the Holy Grail of YA Contemporary Awesome, at least probably for those who share my taste in contemporary fiction. First of all, it is important to note that this is the most elegantly casual portrayal of LGBT teens I have encountered in YA. "Elegantly casual" sounds like an oxymoron, but what I mean by that is that it is a lovely realistic presentation of the ambiguities of teen sexuality. Lili Wilkinson doesn't try to fit Ava and the other characters into character types in LGBT fiction that have been done before. Instead, they are simply allowed to…exist as they are, and it's not a big freaking deal. David Levithan didn't quite do it for me with his utopian romance Boy Meets Boy, but I am enamored by PINK's skillful and intelligent handling of sexual orientation and identity.Speaking of intelligence, PINK has the type of smartness that will appeal to everyone, regardless of your IQ level. Ava and the Screw kids are, without a doubt, nerds—specifically of the sci-fi geek kind. This means that they constantly engage in the most entertaining of conversations regarding the strangest and most obscure topics everywhere. There's nothing like using one's excessive brainpower for nerdy humor, and as someone who goes to a nerdy-cool college, I adored the banter. The Screw kids are weird, but they're cool-weird, and best of all, each of the five has his or her own distinct personality.PINK has all of the essentials that I live in a contemporary novel: a strong-voiced protagonist who is still in the process of growing, wit, full characterization. Not to mention some delectable extras: the sci-fi geek details, musical theatre (!), a cute boy, and memorable side characters. Without a doubt, PINK is going on my favorites shelf, and I eagerly look forward to the next time I reread it, so that I can experience the joy of this wonderfully well-written book all over again.
Review by juniperjungle
16/06/2015
I've been hearing lots of good things about this YA book so I thought it was time I read it to see what all the fuss was about. Following Ava's attempts to find out who she is and where she belongs in the very uncertain world of being a teenager, the book sucked me in within the first few pages and I found it hard to put down.<br/><br/>The plot of Pink really spoke to me. Ava's struggle to be the person she thinks other people want her to be when everyone wants her to be something different, quickly leads her to living a triple life; a version for her parents and girlfriend, a version for the cool kids at her new school, and a version for the stage crew she ends up working with on the school musical. Understandably this all just complicates Ava's life when deep down the question she's really trying to find the answer to is "Who am I?"<br/><br/>I loved the character of Ava and found I could really identify with her. The teenage version of me was never cool enough to aspire to fit in with the cool and popular crowd, but I did spend a lot of time trying to be the person I thought everyone wanted to be. When Ava's efforts went wrong and she ended up hurting people I really felt for her. Whilst the book is about Ava there is a whole cast of supporting characters who are brilliantly created. So many of the other teenagers in the book reminded me of people I was at high school with. <br/><br/>I found that I got wrapped up in the world of Pink really quickly. The way it's written just jumps off the page, the dialogue is convincing and the humour is well written. I felt that it dealt really well with the issues it covered, they were treated realistically and factually with no judgement attached to any of them. I think this is a book I would really have appreciated reading when I was a teenager, though it still really resonated with me now.<br/>