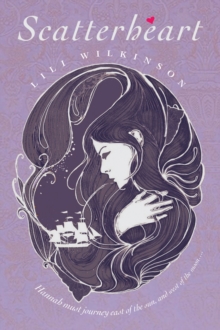 Information
Format: Paperback
Pages: 384 pages, Illustrations
Publisher: Catnip Publishing Ltd
Publication Date: 01/02/2009
Category: Historical
ISBN: 9781846470776
Free Home Delivery
on all orders
Pick up orders
from local bookshops
Reviews
Showing 1 - 3 of 3 reviews.
Review by Herenya
16/06/2015
A reworking of 'East of the sun, west of the sun'. Hannah is a London spoiled and sheltered 19th century teenager who is given a convict sentence and transported to New South Wales. At the start of each chapter there are a few lines about a girl called Scatterheart, who is taken to live with a white bear. Scatterheart's story is one Hannah has been told, and the two stories reflect each other. Fairytale meets Australian history. I'm impressed.I'll admit I skimmed some of Hannah's story, just because I found the treatment of the convicts so horrible and depressing (all the more so because this sort of thing actually happened.) The fairytale-aspect meant that, being familiar with the tale, I could predict Hannah's story in one or two places. But that's what one gets with fairytale-retellings, and this one was certainly realistic and... real, somehow. It was very good.
Review by LarissaBookGirl
16/06/2015
Hannah Cheshire is a young lady of Quality living in London, and the daughter of a Gentleman. Arthur Cheshire is an important businessman, and wants only the best for his daughter. Hannah is used to having the best, fine dresses and jewellery, food and servants. Hannah has grown up with no mother and, apart from her father, has no one else in her life besides her tutor.Thomas Behr has filled Hannah's head with history, poetry, and mathematics as well as languages, animals and stories; much to Arthur Cheshire's dismay. It was not necessary nor desirable for a young lady of Quality to know such things, Hannah's father would say. But still Thomas Behr loved to tell his story and Hannah loved to hear them. Her favourite story was that of Scatterheart.One day Hannah finds her life turned upside down, and all her troubles seem to start with the dismissal of Thomas Behr as her tutor. Quickly afterwards things seem to turn from bad to worse, and Hannah finds herself imprisoned. "A series of misfortunes and calamities...", as Hannah puts it, has brought her to trial and despite her insistence of innocence; she is sentenced to "Parts Beyond the Seas", other wise known as New South Wales.It is upon the seas and beyond that Hannah holds dear to her the stories told by Thomas Behr; she is haunted by the story of Scatterheart and the white bear. Along with the stories is the memory of the man she has become so fond of. Once she had considered him well beneath her, a servant, a commoner. Now she thinks of him more and more. But will she ever see him again?Scatterheart is a fickle and selfish girl who accepts the offer of marriage from a white bear, not because she loves him but because he can offer her a castle to live in and beautiful dresses to wear. Hannah begins to wonders if she is not so different, willing to consider marriage to a man she detests for the chance to have a grand house with carriages, and fifty servants, and jewels and beautiful dresses.Like Scatterheart, Hannah must endure a long and dangerous journey, to discover what is truly worth having, finding growth and learning and love; all the while searching for her own Mr Bear, 'East O' The Sun, West O' The Moon'.Scatterheart is a wonderful story that mixes reality with fantasy, and truth with illusion. It's a story that portrays the ignorance and selfishness of the wealthy and the harsh reality of life for the poor living in London and Australia in 1814. Scatterheart is a fairytale that's actual and realistic.
Review by LuisaFregapane
16/06/2015
I wasn't hesitant to give this one five stars.I read the first few chapters of this and got bored and put it down. When left bookless, I revisited it, this time digging deeper into Hannah's life and really seeing the books potential. I decided I would keep on reading to see where the plot was going.Needless to say I fell in love with this book. Hannah starts out as such a spoilt and spiteful young girl and bears almost uncanny resemblance to Scatterheart, the bitter character in the story that she loves to hear. Hannah is rich. Her father gives her everything she wants and she knows that she is a young lady of quality, but when her Father runs away one day, Hannah is left penniless, confused and with no knowledge at all about the world outside of her home, desperate to find out what has happened to her Father. However, Hannah is mistaken for a criminal and sent to prison, where she is later thrown on to a convict ship.The ship, for Hannah, really opened her eyes. She doesn't fit in there, and she longed for her silver pendants andd silk sheets, but she soon makes friends with a more experienced woman, Meg.Meg is fearless, brave and a great role model for Hannah. Hannah grows to respect and love Meg, as more then a best friend, but a sister. An evil doctor joins the girls on the convict ship and everything changes. The whole journey is an escape from the evil doctor. Will he manage to get what he wants? What exactly does he want anyway? The story of the doctor unfolds as the story advances.I never thought I'd like this book, but in the end, I feel like I know Hannah personally, and I am thinking of rereading this book soon. I reccommend this book to anyone and everyone. 5 stars.