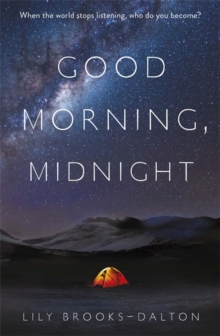 Good Morning, Midnight
Hardback
Description
Augustine, a brilliant, ageing scientist, is consumed by the stars.
For years he has scanned theuniverse, trying to quantify infinity, to look back at the beginning of time itself.
When news of a catastrophic event arrives at the remote research centre in the Arctic circle where he works and the researchers are evacuated, he insists on staying behind.
But shortly after the last airlift departs, Augustine discovers a mysterious child - Iris.
As time wears on, Augustine is unable to establish contact with the outside world.
They are alone.Time means very little in deep space.
Mission Specialist Sullivan, a divorced astronaut and mother, is aboard the Aether, on its return flight from Jupiter.
They are the first human beings to delve this deep into space and it has changed the crew.
At last Sully feels at peace with the sacrifices she has made - the daughter she's left behind, the marriage she couldn't save.
But suddenly, inexplicably, the Aether loses all contact with Mission Control.
Faced with the cold, barren sweep of the Arctic and the vast silence of space, how will they live?
What will they be living for?
Information
Format: Hardback
Pages: 272 pages
Publisher: Orion Publishing Co
Publication Date: 01/08/2016
ISBN: 9781474600583
Other Formats
Paperback from £7.85
EPUB from £4.99
Free Home Delivery
on all orders
Pick up orders
from local bookshops
Also by Lily Brooks-Dalton