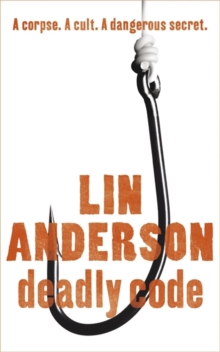 Deadly Code : Rhona Macleod Book 3
Paperback
Description
" The left foot had been severed from the leg ten centimetres below the patella.
Both fibula and tibia bones were divided at the same place.
All the toes were intact, although the nails had disintegrated or been eaten off during the foot's time in the water." Dr Rhona Macleod travels north to investigate a grisly discovery - a severed foot, caught in a fishing net off the Isle of Skye.
Where is the rest of the body, and who is the dead man?
What links him to a sinister secret society in America? And why is the Ministry of Defence so keen to shut down the case?
Rhona's investigations embroil her in an international conspiracy from which she will be lucky to escape unharmed..
Information
Format: Paperback
Pages: 272 pages
Publisher: Hodder & Stoughton General Division
Publication Date: 01/07/2007
Category: Crime & mystery
ISBN: 9780340922385
Free Home Delivery
on all orders
Pick up orders
from local bookshops
Reviews
Showing 1 - 3 of 3 reviews.
Review by DeltaQueen50
27/01/2016
Deadly Code by Lin Anderson is the 3rd book about Scottish forensic scientist, Rhona MacLeod. The plot revolves around genetic coding and cloning which I found very interesting. Unfortunately, I found the story relied a little too much on coincidences that were too farfetched to be easily accepted. So overall, I had mixed feelings about the book. I find the main character, Rhona, rather a difficult one to warm up to, but I also find her coldness believable seeing as she is a scientist and reacts with her brain rather than her heart. She did seem to open up a little during the course of this story and learning more of her past helped with that as well. The story mostly takes place on the island of Skye and I enjoyed the descriptions of the island, the weather and the ocean. These quick read mysteries are good to carry around to read while waiting for appointments or simply just to while away an afternoon, and since I have more of them on my shelves, I will be continuing on with the series.
Review by austcrimefiction
16/06/2015
DEADLY CODE is the 3rd book in the Dr Rhona Macleod series, a series, which up until now I've really enjoyed, but for some reason this one didn't work. Mind you, terrific sense of place, very atmospheric what with Macleod off in the remote Scottish Isles battling the evil menace of a cult of Scottish extremists. Or I think that's what they were. The big problem was that the plot was a bit too silly at points. Not that the idea of extremists of any kind is a bad concept, but not where there needs to be so much coincidence and frankly, a whole heap of heavy lifting to get Macleod into the action, get her to the various locations, and keep her involved. And the resolution is one of those extreme leaps of science that, sure, could happen. But hasn't as yet. And I kind of like my crime fiction to stay away from the realms of speculative / science fiction. Having said that, my main problem with this book was the enormous leaps of coincidence and a certain feeling of convenience about the whole thing that meant it didn't work. Onwards to the next in the series for this reader. (I understand there's 6 of them now).
Review by wyvernfriend
16/06/2015
Fiona MacLeod travels north to investigate a foot caught in a fishing net off the Isle of Skye. This is just before she heads off on a visit to America to go to a conference. While there she encounters a racist group who use Scotland and race as a cornerstone of their beliefs. Rhona is doing research on targeted DNA and this may have implications in her investigation. However when she returns she finds that the Ministry of Defence are getting involved and it's all a mess.I didn't find myself as drawn to the characters as I have before, the places were great but I felt rushed and no real feeling of travel between spaces. Not bad but I wanted better.