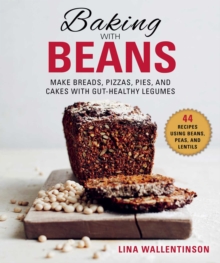 Baking with Beans : Make Breads, Pizzas, Pies, and Cakes with Gut-Healthy Legumes
Hardback
Description
44 Nutritious and Delicious Recipes Using Beans, Peas, and Lentils Beans-high in protein, fiber-rich, and full of minerals-are one of the healthiest foods around.
But did you know that baking with beans improves their nutritive values?
Now, you can learn to bake with beans to make delicious, gut-healthy, and vegan breads and desserts that are jam-packed with nutrition and unique flavors. Along with peas, lentils, chickpeas, and more, Baking with Beans showcases the healthy legume as the main star in a variety of baked goods.
Whip up fresh nutty breads, delightful plant-based cakes and cookies, and creative pies and pizzas, as well as some gluten-free options.
Learn to make: Walnut Bread with Green LentilsFocaccia with Rosemary and OlivesBraided Bread with Pistachio PestoCarrot Rolls with Pumpkin SeedsBlueberry Bars with Cinnamon and CardamomChocolate Balls with Banana ChipsSaffron Cake with FigsCoconut Lime MuffinsKidney Bean BrowniesBlack Bean Chocolate Chili CookiesAnd More!
Add healthy fibers to your breads and desserts and invest in your health with beans!
Information
Format:Hardback
Pages:128 pages, 60 color photographs
Publisher:Skyhorse Publishing
Publication Date:13/05/2021
Category:
ISBN:9781510746282
Also by Lina Wallentinson