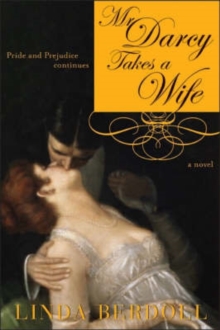 Mr. Darcy Takes a Wife : Pride and Prejudice Continues
Paperback
Information
Format: Paperback
Pages: 465 pages
Publisher: Sourcebooks, Inc
Publication Date: 01/05/2004
ISBN: 9781402202735
Free Home Delivery
on all orders
Pick up orders
from local bookshops
Reviews
Showing 1 - 5 of 30 reviews.
Previous | Next
Review by creyola
16/06/2015
As a bit of a Jane Austen puritist I found this book at first very unnerving. I thought that the author had taken too many liberties and destroyed any vision of what I thought Elizabeth and Fitzwilliam Darcy would be like after their marriage. I'm not a complete JA puritist, though, and I did finish the book. In the end a sense of humour comes in handy while wading through the pages of this novel. There are only so many times Elizabeth can recount her husband's randy ways and her 'sore bottom' before you either just have to laugh out loud or close the book indefinitely.
Review by magst
16/06/2015
I can see why the Austen purists are downing this book, but personally, I enjoyed the book very much. The sex was at times too much, however it's very nice to think that Darcy and Elizabeth had a passionate relationship.
Review by petaj
16/06/2015
This just doesn't go with Jane Austen's writings. But has some amusing moments.While enjoyable in a completely different way, this continuation of P&P really made me appreciate Pamela Aiden's series about Fitzwilliam Darcy all the more.A hoot.
Review by sedelia
16/06/2015
When I first started reading this book, I wasn't expecting Austen. Let's face it, nobody can do subtext, complexity, and wit as well as Austen can. So I wasn't completely disappointed by what I found in Mr. Darcy Takes a Wife, but I was disappointed.What I noticed straight off was that the characters were different. I can't put my finger on it, but they were a bit flatter, and didn't have as much complexity as I generally like my characters to have. There was no subtext going on in the background, everything was all very straightforward. Jane seemed way too good, in my opinion. And Bingley is ruined in this novel. Elizabeth is also not herself; she seems to care way too much about what Darcy thinks of her. In short, definitely not my favorite where characters are concerned.The second thing I noticed is that this entire book is just one big melodramatic event after another. I swear, it's a Pride and Prejudice soap opera. Nothing goes right for Elizabeth and Darcy, and they get into all sorts of trouble throughout the novel. What Berdoll lacked in characterization, she tried to make up for in plot. I was entertained by the ridiculousness of it all, but I'm not sure that's what I was supposed to like about it.There was one good thing about this novel, and that is its humor. I'm not sure if Berdoll intended for it to be funny, but I laughed for at least the first quarter of the book; especially during the honeymooning period. The euphemisms used for male and female body parts, and the way the sex is described made me feel like a thirteen-year-old again. I couldn't stop giggling!There's really nothing much in this book; the characters don't experience much change, there's not much of a plot, just various overly dramatic situations, lots of revelations of clandestine lovers, and the inadvertent comedy. The one saving grace, for me, was the fact that I listened to the audiobook. Rosalyn Landor's narration was perfect. Her careful pronunciation of the words and the prim and proper way she read it definitely made me think 19th century gentry. Her seriousness combined with the ridiculous plot lines and euphemisms really made me laugh. And, let's face it, the only thing this novel has going for it is the ridiculous drama and inadvertent comedy. Conclusion: Read it if you're interested, but don't expect anything great. The characters are off and all the subtlety and wit of Austen's Pride and Prejudice is blown to smithereens. If you're looking for Austen, this isn't it. If you're looking for ridiculous drama, you've come to the right book.
Review by adeptmagic
16/06/2015
This isn't literature, it's porn. I have to wonder about some of the people who say that the author has (pardon the expression) nailed Jane Austen's voice. Nothing could be further from the truth. The whole point of P&P, in fact the works of JA in general, is the sexual tension that never turns to explicit description. Obviously there's going to be sex once the characters are married, but you can imply that, and have the characters give each other knowing looks without describing various disgusting incidents. (Some have said that it's nice to see a little "modern spice" in the book, but I've read plenty of modern "spicy" books that didn't repulse me the way some of the scenes in this book do.)If you want erotica, that's fine. Just don't pretend you're reading anything that has anything but the most tenuous of connections to JA.
Also by Linda Berdoll