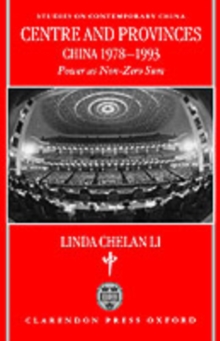 Centre and Provinces: China 1978-93 : Power as Non-Zero-Sum
Hardback
Description
Centre and Provinces: China 1978-93 goes beyond the dominant state capacity paradigm to argue for an interactive model to explain the political relations between the central and provincial governments in contemporary China.
The uni-dimensional, centrist perspective of the state capacity paradigm has failed to adequately explain the coexistence of central and provincial power, and to anticipate circumstances of change.
In this book a hybrid rational-choicecum institutional approach highlights the mutual power of both the Centre and the provinces. each party, the Centre or the provinces, imposes structural constraints upon the other.
Power is not a zero-sum game. The cases of Shanghai and Guangdong, important resourceful provinces under very different central policy contexts, contrast possible interactions between central policy and provincial choice.
Conflicts amidst a context of mutual dependence necessitate compromise on both sides, and qualitative changes to centreprovince relations as a result may well have long-term implications for wider political processes.
Information
Format:Hardback
Pages:356 pages, 8 figures, 7 tables
Publisher:Oxford University Press
Publication Date:01/04/1998
Category:
ISBN:9780198293613
Also in the Studies on Contemporary China series | View all