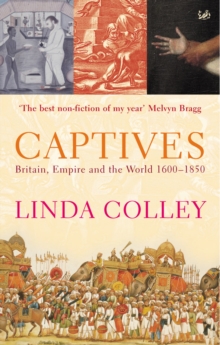 Captives : Britain, Empire and the World 1600-1850
Paperback
Description
Ranging over a quarter of a millennium and four continents, Captives uncovers the experiences and writings of those tens of thousands of men and women who took part in Britain's rise to imperial pre-eminence, but who got caught and caught out.
Here are the stories of Sarah Shade, a camp follower imprisoned alongside defeated British legions in Southern India; of Joseph Pitts, white slave and pilgrim to Mecca; of Florentia Sale, captive and diarist in Afghanistan; of those individuals who crossed the cultural divide and switched identities, like the Irishman George Thomas; and of others who made it back, like the onetime Chippewa warrior and Scot, John Rutherford.
Linda Colley uses these tales of ordinary individuals trapped in extraordinary encounters to re-evaluate the character and diversity of the British Empire.
She explores what they reveal about British responses to, relations with, and frequent dependence upon different non-European peoples.
She shows how British attitudes to Islam, slavery, race, and American Revolutionaries look different once the captive's perspective is admitted. And she demonstrates how these individual captivities illuminate the limits of Britain's global power over time - as well as its extent.
Richly illustrated and evocatively written, Captives is both a magnificent and compelling work of history, and a powerful and original reappraisal of the significance and survivals of empire now.
Information
Format: Paperback
Pages: 464 pages
Publisher: Vintage Publishing
Publication Date: 04/09/2003
ISBN: 9780712665285
Free Home Delivery
on all orders
Pick up orders
from local bookshops
Reviews
Showing 1 - 1 of 1 reviews.
Review by fist
16/06/2015
Move on, those of you who hoped to read titillating tiles of the white slave trade. No such thing here. The book starts with a relatively short part on British captives in Northern Africa, a second part on settlers in North America (who would occasionally go to live with the Indians, either voluntarily or forcibly), and a rather long and tedious part on conditions of army soldiers in India. These soldiers are called 'military captives', so as not to do too much injustice to the dramatic title (to no avail; it does feel like a dissertation on the military rank-and-file in India was given an garnish of two hastily written overviews of captives in Northern Africa and North America in order to justify the dramatic title). Even within this conceptual inconsistency, the book veers back and forth between general statements and individual stories, but neither are explored to the reader's full satisfaction.The perspective remains staunchly Britain-centric throughout; little time or sympathy is spent on other captives (eg from other European countries in North Africa, or from France in North America). The author does a good job of explaining popular sentiment in Britain during the American Revolution and on Indian matters, although it could all have done without the numerous repetitions. All in all, very uneven.