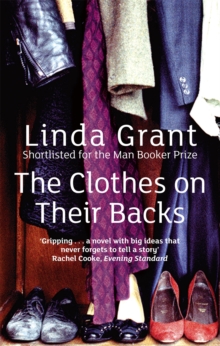 The Clothes on Their Backs
Paperback
Description
In a red brick mansion block off the Marylebone Road, Vivien, a sensitive, bookish girl grows up sealed off from both past and present by her timid refugee parents.
Then one morning a glamorous uncle appears, dressed in a mohair suit, with a diamond watch on his wrist and a girl in a leopard-skin hat on his arm.
Why is Uncle Sandor so violently unwelcome in her parents' home?
This is a novel about survival - both banal and heroic - and a young woman who discovers the complications, even betrayals, that inevitably accompany the fierce desire to live.
Set against the backdrop of a London from the 1950s to the present day, The Clothes on Their Backs is a wise and tender novel about the clothes we choose to wear, the personalities we dress ourselves in, and about how they define us all.
Information
Format: Paperback
Pages: 304 pages
Publisher: Little, Brown Book Group
Publication Date: 02/04/2009
ISBN: 9781844085422
Free Home Delivery
on all orders
Pick up orders
from local bookshops
Reviews
Showing 1 - 1 of 1 reviews.
Review by wandering_star
16/06/2015
Vivien has grown up in a quiet backwater of London, with parents who desire nothing more out of life than to pass unnoticed. "A life that isn't peaceful is no life at all", her father says. One of the most vivid memories of her childhood is the appearance at their front door of a man who says he is her uncle - vivid not just for the way he was dressed (electric blue mohair suit, diamond watch) but because he caused her normally mouse-quiet father to scream, and shout, and swear, in a language she had never heard him speak before.So when, in her early twenties, Vivien comes across Uncle Sándor again, she befriends him and starts to learn about her own history. The attraction for her is clear. <i>I enjoyed listening to someone who was voluble, who didn't excrete small constipated pieces of information, under great pressure. Out it came, there was no stopping him, he was a man who loved to talk.</i> But Sándor differs from her parents in another important way. They have chosen to survive by melting into the background. Sándor, on the other hand, has survived by being a hustler. He is defiantly proud of this - he has an appetite for life, and wants to live it to the full. But he also believes that it is, in the end, the only way to survive.<i>I didn't take the supplies, I took other people's supplies and I sold them and split the profits with them, so there was no coupon with my name on it, and this is why, at the end of the war, my mother still had an apartment. And now do you understand why your ideas about what is decent, and respect, and equality are for babies? A boy like that one downstairs, strong and stupid, is the kind who is most like the animal who suddenly lies down in the shafts of the cart and dies, for no reason, because his strength is exhausted. His strength is all he has. I'm not that type, and I hope you are not either.</i>I really like Linda Grant's writing, and have read all her novels. This one contains some of her best writing - I don't believe anyone could read the first chapter or two and then put the book back on the shelf. The subject seems a little less coherent than her other books, perhaps because Vivien is struggling for space with Sándor: the book is about her growing up as much as it is his life story, but he's such a bold personality that he sometimes takes over. And while Vivien's relationship with her mother is poignantly drawn, her father is little more than a cipher. There's also an element of unlikely contrivance in the story (Vivien and Sándor meet by chance - each recognises the other but both pretend not to). But there is still an enormous amount to like and enjoy in this novel, and I would highly recommend it.