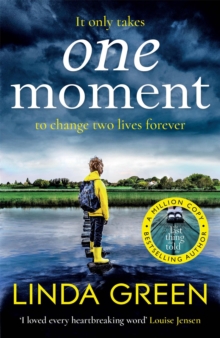 One Moment
Paperback / softback
Description
'Heart-warming and heart-breaking, by the end, you'll want to pluck Finn from the pages and give him a big hug' Heat magazine ***** 'I loved every single heartbreaking word.
REALLY well done' LOUISE JENSEN, author of The FamilyFinn and Kaz are about to meet for the first time...
Ten-year-old Finn, a quirky, sensitive boy who talks a lot and only eats at cafes with a 5-star hygiene rating, is having a tough time at school and home.
Outspoken Kaz, 59, who has an acerbic sense of humour and a heart of gold, is working at the cafe when Finn and his mum come in.
They don't know it yet, but the second time they meet will be a moment which changes both of their lives forever . . . 'An emotional read with a remarkable and uplifting conclusion' Woman magazine'An original and moving story' Mirror'You'll want to savour every single word of this beautifully written and thought provoking novel.
An absolute winner' MIKE GAYLE, author of Half a World Away~*~ What readers are saying about One Moment: ~*~ 'Up there with the very best.
I sobbed big fat tears and at one point I was inconsolable.
Truly a classic of our time' 'WOW! I've read hundreds of books and never has one touched me like this one' 'Oh, how I loved this book.
It had me in the depths of sadness and the heights of joy.
Beautifully written. This is one story that will stay with me''This book is just beautiful.
I loved every page. I'd go so far as to say, one of the best books I've ever read' 'Buy it, you will not be disappointed.
I laughed and cried the whole way through in equal measures' 'Linda Green is an incredibly talented author and this book is crafted in such a special and clever way.
I absolutely LOVED IT.' 'I feel like I've experienced something very special.
Linda Green has woven an incredibly compelling and timely story which made me laugh, cry, fume with anger and nod in agreement so many times.
By the end, I was in pieces' 'A wonderfully written book which is heart-breakingly sad but uplifting at the same time' 'One of the most uplifting yet heart-breaking novels you will ever read' 'The tears are running down my face having just finished this book in less than 24 hrs' 'The quality of writing is honestly mind blowing
Information
Format: Paperback / softback
Pages: 400 pages
Publisher: Quercus Publishing
Publication Date: 05/03/2020
ISBN: 9781787478749