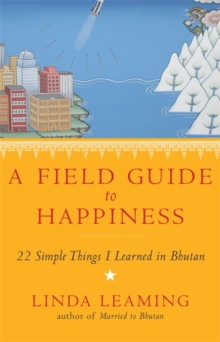 A Field Guide to Happiness : What I Learned in Bhutan about Living, Loving and Waking Up
Paperback / softback
Description
'In the West, we have everything we could possibly need or want - except for peace of mind,' Linda Leaming writes, 'We go to extravagant lengths to try to be happy.
Living in Bhutan and the United States has taught me that we can all learn to create a space within us where we are untouched, at our best, where we can be open to life and we can be, even in the darkest hours, calm and relatively happy.'A Field Guide to Happiness is a practical and inspirational guide to living more simply and in balance.
From her experiences as an American writer and teacher living in Bhutan, Linda Leaming shares endearing, often humorous stories from the happiest country in the world.
Having spent her early years in Nashville, and most of her adult life in Thimphu - two wildly different and unique cities in their own right - Linda has been forced to think differently about time, work, money, family and herself.
Instead of fuming impatiently in line at the bank, she decided to take up knitting.
By calming down and going with the flow, she's learned to relax and embrace the absurdity that is everywhere. And facing her own mortality, 'thinking the unthinkable', has inspired her to live life to the fullest, with ease, fearlessness and believe it or not, laughter.
A special section at the end of each chapter gives concrete steps for creating more happiness in our lives.
Information
Format: Paperback / softback
Pages: 256 pages
Publisher: Hay House UK Ltd
Publication Date: 01/10/2014
Category: Thought & practice
ISBN: 9781781802854
Free Home Delivery
on all orders
Pick up orders
from local bookshops