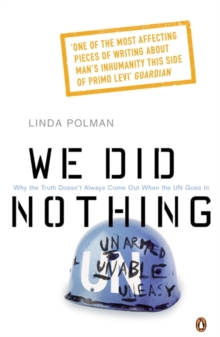 We Did Nothing : Why the Truth Doesn't Always Come Out When the UN Goes in
Paperback
Description
Linda Polman's We Did Nothing: Why the truth doesn't always come out with the UN goes in is an eye-opening account of peace-keeping operations across the globe. In recent years our newspapers and televisions have brought us stories of the failure of the UN to keep the peace in the modern world.
How often have our journalists, our politicians and charity workers turned around and accused the UN of weakness in the face of violence?
During the 1990s Polman visited UN peacekeeping missions in Somalia, Haiti and Rwanda to try to understand how resolutions are made and how the peace is lost.
The result is this extraordinary, disturbing and utterly compelling book.
We Did Nothing shows what the resolutions mean for the people who must live in these battle fields, and for the UN soldiers who are sent to bring order to the terrifying chaos. 'A small classic of man's inhumanity to man' Sunday Telegraph 'One of the most affecting pieces of writing about man's inhumanity this side of Primo Levi' Guardian 'What Michael Herr's Dispatches was to war in the era of Vietnam, this is to the peace keeping era of the nineties' Evening Standard Linda Polman has been a freelance journalist for Dutch radio, television and newspapers.
Since the publication of her book in Holland Polman has lectured to government, military and academic audiences throughout the region.
She currently lives in Sierra Leone.
Free Home Delivery
on all orders
Pick up orders
from local bookshops
Reviews
Showing 1 - 1 of 1 reviews.
Review by JapaG
16/06/2015
We Did Nothing is a good eye-witness view of the UN peace corps operations in Somalia, Haiti, and Rwanda. Linda Polman describes in a very personal way the shortcomings that prohibit the UN from functioning as it should in those crisis situations. The book culminates in a thought-provoking recount of a mass-murder at a Rwandan refugee camp.The book is very well written and translated. It is the view of a single person, but discusses a world-wide issue of the abilities (and disabilities) of the UN peace corps.
Also by Linda Polman