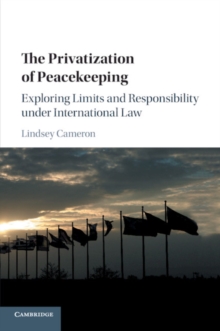 The Privatization of Peacekeeping : Exploring Limits and Responsibility under International Law
Paperback / softback
Description
Private military and security companies (PMSCs) have been used in every peace operation since 1990, and reliance on them is increasing at a time when peace operations themselves are becoming ever more complex.
This book provides an essential foundation for the emerging debate on the use of PMSCs in this context.
It clarifies key issues such as whether their use complies with the principles of peacekeeping, outlines the implications of the status of private contractors as non-combatants under international humanitarian law, and identifies potential problems in holding states and international organizations responsible for their unlawful acts.
Written as a clarion call for greater transparency, this book aims to inform the discussion to ensure that international lawyers and policy makers ask the right questions and take the necessary steps so that states and international organizations respect the law when endeavouring to keep peace in an increasingly privatized world.
Information
Format: Paperback / softback
Pages: 432 pages
Publisher: Cambridge University Press
Publication Date: 13/12/2018
Category: Peacekeeping operations
ISBN: 9781316623565