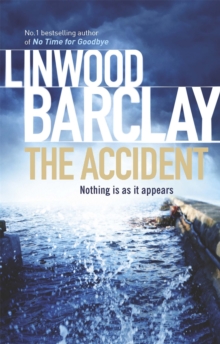 Description
A drunk-driving accident hides more than one dark secret in No. 1 bestseller Linwood Barclay's gripping thriller Glen Garber's life has just spiralled out of control.
His wife's car is found at the scene of a drunk-driving accident that took three lives.
Not only is she dead, but it appears she was the cause of the accident.
Suddenly Glen has to deal with a potent mixture of emotions: grief at the loss of his wife, along with anger at her reckless behaviour that leaves their young daughter motherless.
If only he could convince himself that Sheila wasn't responsible for the tragedy. But as more and more secrets begin to surface, Glen may have to face something much, much worse ...
Information
Format: Paperback
Pages: 480 pages
Publisher: Orion Publishing Co
Publication Date: 01/06/2012
Category: Crime & mystery
ISBN: 9780752883373
Free Home Delivery
on all orders
Pick up orders
from local bookshops
Reviews
Showing 1 - 3 of 3 reviews.
Review by Daftboy1
16/06/2015
Very enjoyable book this, it is the 4th Linwood Barclay book I have read and probably my favourite. The main character Glenn Garber is trying to find answers for the death of his wife. There are a few twists and turns along the way. Glenn eventually finds out the truth and its an unexpected twist.
Review by col2910
16/06/2015
Blurb..........<br/><br/><br/>Glen Garber's life has just spiralled out of control. His wife's car is found at the scene of a drunk-driving accident that took three lives. Not only is she dead, but it appears she was the cause of the accident. <br/>Suddenly Glen has to deal with a potent mixture of emotions: grief at the loss of his wife, along with anger at her reckless behaviour that leaves their young daughter motherless. If only he could convince himself that Sheila wasn't responsible for the tragedy.<br/>But as more and more secrets begin to surface, Glen may have to face something much, much worse...<br/><br/><br/><br/>I actually enjoyed this more than I thought I was going to.<br/>With Barclay, he has a habit of arranging his narrative so that the reader never fully understands what's the raison d'etre is, until the big reveal close to the finish. Whilst this was an interesting tactic/practice – I can't find the right word here - at first, I've grown a bit tired of the format over time. However, this book seemed slightly more straight-forward. Admittedly there was a grand finale and the protagonist(s) got their comeuppance at the end – no real surprises or spoilers there, but I wasn't left scratching my head throughout wondering – "What the f***!"<br/>Believable enough plot, sympathetic main character, with a reasonable ensemble of supporting cast including the annoying mother-in-law and interesting police-woman. <br/><br/><br/>He manages to portray the effects of the banking crisis and economic downturn of the last few years and the effect it has had on jobs, housing and everyday folk and their finances. <br/>Enjoyable enough, better than average, but I'm not charging down the bookstore doors to get hold of the next. My wife enjoys them, maybe a bit more than me, so I'll no doubt be reading Trust Your Eyes at some point in the second half of this year. <br/>4 from 5 at a push - insofar as it was better than a 3.<br/><br/><br/>Bought new last year for my better half.<br/>
Review by Olivermagnus
27/01/2016
Connecticut contractor, Glen Garber, is trying to keep his business from going under when his life is shattered by the death of his wife, Sheila, in a car accident. She and another family are killed in a drunk driving accident , one where she was the drunk driver. Glen knows his wife really doesn't drink to any excess and rarely drinks at all. As Glen struggles to deal with his wife's death and look after their daughter, Kelly, more seemingly unrelated "accidents" continue to occur. He begins his own investigation into Sheila's death as well as the death of one of her friends. Before long he discovers that the women may have been part of a group involved in selling fake designer handbags and imported pharmaceuticals. To add to his grief he is being sued by the family of the people who died in the car accident, his mother-in-law is trying to take Kelly, several of his employees have serious problems, and a secret of his own may lead to blackmail.<br/><br/>The story made a good effort in showing how people who are financially squeezed in bad economic times can, in ignorance and stupidity, get in too far over their heads. The story was a fast paced page turner and there was a roller-coaster of suspense as Glen uncovers the truth. This was a fun read and I'll definitely pick up another Linwood Barclay novel in the near future.<br/>