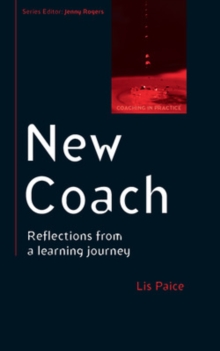 New Coach: Reflections from a Learning Journey
Paperback / softback
Description
"Lis Paice's positivity shines through on every page of this book.
She writes in a beautifully simple and accessible style.
The book will be a tremendous introduction for those setting out on the same path as new coaches, or for more experienced coaches who want to compare their journey with hers." Dr John Launer, Honorary Consultant and Senior Clinical Lecturer at the Tavistock Clinic, London, UK"I love this book.
I've not seen a book before that uses the experience of the one who is learning rather than just telling you how to do it.
It will be so useful in taking away the inevitable anxiety that comes when you are about to learn a new skill - and learn it in public.
The author's honesty about her own pitfalls will help you know what to expect, and the light bulb moments that she has as she progresses will undoubtedly light up the occasional bulb for you too.
It might be a book about learning, but it's also a book that outlines the skills of coaching in a whole new way."Jenny Firth-Cozens, Imperial College London, UK"This is a marvellous record of the journey recorded by a senior doctor-educationalist as she strived to gain the skills of a coach.
Any new coach will find it difficult to put down as it will resonate with many of their own first reflections.
She is open about her mistakes from the start. On her first day of coach training she had a moment of kairos, and she set her goal to train to the highest level, which she continues to do."Dr Rebecca Viney, Coaching and Mentoring Lead, London Deanery, UK"There are many books on coaching that give advice on what coaches should do.
This book is different. Describing herself as a 'self-critical learner', Liz traces her journey into becoming a coach, telling a uniquely honest story, 'warts and all' that all of us can learn from.
This is like reading someone's personal, reflective diary, rather than a recipe book on 'how to coach'.
The result is both engaging and highly illuminating." David E Gray, Professor of Leadership and Organisational Behaviour, University of Greenwich, UKYou can't summarize if you haven't been listening. Coach and client share the encounter, not the experience. The better you get, the less you say. The client is the hero, not the coach. Coaching is a skill for life. This frank account of one leader's journey to become a coach is a must have for beginner coaches.
It will strike a chord with anyone who has been on a similar journey or has just begun professional training, discovering the disappointments, triumphs and surprises of learning to coach and coming to their own personal insights.
Lis Paice's easy conversational style and rich supply of real-life examples make this an enjoyable read even for the absolute beginner.
The questions she raises about coaching will also stimulate reflection for experienced coaches, trainers and supervisors.
Topics include: What coaching is all about How coaching differs from other ways of helping What the role of the coach entails Getting to grips with the principles of coaching; Learning by experience why the rules matter Trying out different tools and techniques Finding ways of helping the client to new perspectives and insights Avoiding complacency
Information
Format: Paperback / softback
Pages: 136 pages
Publisher: Open University Press
Publication Date: 16/12/2012
Category: Memoirs
ISBN: 9780335246885
Free Home Delivery
on all orders
Pick up orders
from local bookshops