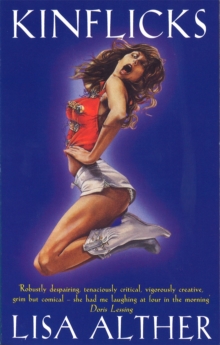 Description
Meet Ginny Babcock - the forerunner to BRIDGET JONESIt's the 1950's and 60's in Hullsport, Tennessee and Ginny Babcock is coming of age.
Bouncing from one identity to the other, she adopts the values, politics, lifestyles and even sexual orientation of each new partner she finds. In this wise, funny and ultimately heartbreaking story, Lisa Alther explores the limited roles offered to women in this period - from cheerleader to motorcycle moll, bulldyke to madonna - each embodying important truths about the aspirations of the culture that created them.Honest, wise, funny and tragic by turns this is a remarkable novel in a class of its own.
Information
Format: Paperback
Pages: 576 pages
Publisher: Little, Brown Book Group
Publication Date: 06/05/1999
ISBN: 9781860497094
Free Home Delivery
on all orders
Pick up orders
from local bookshops
Reviews
Showing 1 - 1 of 1 reviews.
Review by terricoop
16/06/2015
"Kinflicks" by Lisa Alther has been one of my favorite books for nearly thirty years. It is a brilliant piece of 'chick lit' that predated the genre by a couple of decades.This is the story of Ginny Babcock. Well, at least the story of Ginny as she pushes and pulls herself through the maze of everyone else's desires and expectations. She starts out, as most girls do, as daddy's princess. Alas, puberty hits, and armed with a ponytail and padded bra, Ginny becomes the perky flag swinger and arm candy of the local football star. However, his relentless sexual pressure and just general dumbness start to cool Ginny's ardor, until her father forbids her to see him. So, in best Romeo and Juliet fashion, she demands they run off and get married. Then fails to show at the appointed time. Enter Clem Cloyd, former childhood playmate and now the town's motorcycle thug. It is love at first sight. Until he nearly kills her. Daddy to the rescue again and Ginny is bundled off to an exclusive girl's college where she develops an intensely romantic, yet celibate, attachment to a female professor. Unable to maintain the rigidity of this relationship, she is seduced and swept off her feet by a lesbian neighbor in her dorm.Get the picture? Every action in Ginny's life has been dictated by who was lusting after her at the moment.After the dramatic end to the lesbian love of her life, Ginny succumbs to a whirlwind courtship and marriage to the town's insurance salesman. A nice guy, but Ira Bliss is nothing if not predictable. Ginny tries motherhood to alleviate her gnawing boredom and after her delusions are dashed, tries a transcendental affair with an disillusioned (and freaking crazy) wandering Vietnam veteran. Given Ginny's track record, care to guess how well this worked out? C'mon, take a guess . . . Did I mention that while this story is spinning out in retrospect, Ginny is at the bedside of her dying mother? Her source of angst and the rock against which she has always rebelled is slipping from this world. As Ginny watches her weaken we realize that everyone who has ever defined Ginny - her father, her mother, her lovers, her mentors, her husband - are gone. They have moved on with their own fates. For the first time in her life, Ginny has no one to tell her who to be. She realizes that in the end and is at first empty and then bereft. The silence is deafening. Why readers should read this book: "Kinflicks" is hilarious. It is so far beyond hilarious that it will take the light from hilarious ten thousand years to reach it. Lisa Alther has a brilliant grasp of satire, irony, humor, and the absurd. The insights into sex, romance, and suicide are blistering and ironic. And funny. Always funny. There is a fair sprinkling of explicit sex in the book, both straight and gay. However, this book is not erotica. It is always awkward, geeky, inappropriate, and painfully absurd. So suspend your prudishness and your lasciviousness and check out one of the best books in the last thirty years.Why writers should read this book: Did I mention that this novel is funny? A brilliant model of how to write and present satirical and ironic humor. Alther has a way with words and can turn a phrase with the best of them. Technically, the book is written in alternating POV. The retrospective chapters are third-person and the real time current chapters are first person. Technically the book is perfect. She moves between past and present with ease and there is never any confusion about where you are in Ginny's life. Alther also is a master at making sex scenes not sexy. They are funny, awkward, absurd and usually quite embarrassing. Nothing titillating here. However, it all rings through as raw, thought provoking and, most of all, honest. Check it out!
Also in the Virago Modern Classics series | View all