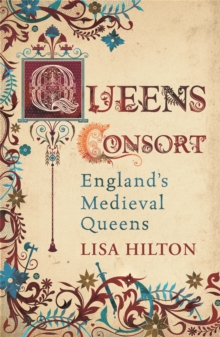 Queens Consort : England's Medieval Queens
Paperback
Description
England from the perspective of its consort queens - a distaff history of the nation from 1066 to 1503. England's medieval queens were elemental in shaping the history of the nation.
In an age where all politics were family politics, dynastic marriages placed English queens at the very centre of power - the king's bed.
From Matilda of Flanders, the Conqueror's queen, to Elizabeth of York, the first Tudor consort, England's queens fashioned the nature of monarchy and influenced the direction of the state.
Occupying a unique position in the mercurial, often violent world of medieval state-craft, English queens had to negotiate a role that combined tremendous influence with terrifying vulnerability. Lisa Hilton's meticulously researched new book explores the lives of the twenty women who were crowned queen between 1066 and 1503, reconsidering the fictions surrounding well-known figures like Eleanor of Aquitaine and illuminating the lives of forgotten figures such as Adeliza of Louvain.
War, adultery, witchcraft, child abuse, murder - and occassionally even love - formed English queenship, but so too did patronage, learning and fashion. Lisa Hilton considers the evolution of the queenly office alongside intimate portraits of the individual women, dispelling the myth that medieval brides were no more than diplomatic pawns.
Information
Format: Paperback
Pages: 576 pages, 16
Publisher: Orion Publishing Co
Publication Date: 06/08/2009
Category: British & Irish history
ISBN: 9780753826119
Free Home Delivery
on all orders
Pick up orders
from local bookshops
Reviews
Showing 1 - 1 of 1 reviews.
Review by shanaqui
16/06/2015
I picked up Queens Consort because it looked like it'd be useful to me in understanding the portrayal of queens in literature in the medieval period. It turned out to be interesting in general, covering the lives of queens who are little remembered now as well as the notorious ones, and trying to portray them fairly, rather than as their detractors would have liked them to be remembered (or, similarly, with reference to their flaws as well as the propaganda intended to make them into heroines: Lisa Hilton is after a balanced and truthful portrayal). It's a good survey of how the role of queen consort developed.<br/><br/>I also found her references to the literature -- mostly in the conclusion to the book -- and to concepts I've encountered only in literature until now (the idea of a queen as a "peaceweaver", which I knew of through <I>Beowulf</i>; obviously the idea of a diplomatic marriage to make peace was familiar to me, but Lisa Hilton seemed to draw her idea of the role directly from the Anglo-Saxon ideas of the role of women/queens) very interesting: the conclusion discusses Malory's portrayal of Guinevere, which undoubtedly reflected how he saw queenship at the time, and perhaps impacted future queens.<br/><br/>There are a few points where it could have been better edited, and it can be quite dry; if you want something more exciting, I'd go for a book that covers the more notorious queens, like Helen Castor's <I>She-Wolves</I>, which I'm about to read.