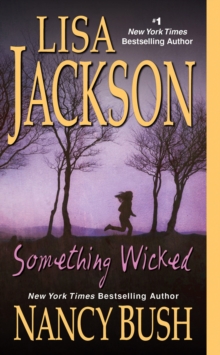 Something Wicked
Paperback
Description
You Sense Him Some refer to it as the Colony. To others, it's a cult. But few locals in the Oregon coastal hamlet of Deception Bay have ever been invited to the inner sanctum of Siren Song.
Even the sisters who live here, far from strangers who might recoil at their unnerving psychic abilities, don't know all the terrors buried within its walls. . . You Fear Him Eight months into a surrogate pregnancy for her sister, Kristina, Detective Savannah Dunbar just wants to wrap up paperwork before taking medical leave.
But her department's investigation into a brutal double homicide has suddenly become much more complex--and personal. And now there are disturbing rumors about the Colony, its matriarch, and a long history of bitter secrets. . . But You Can Never Stop Him Death has come to Siren Song before.
But this time there will be no refuge and no remorse.
For everything born in wickedness must die that way--and a killer will not rest until he has claimed them all. . . Praise for Wicked Lies "Definitely one you don't want to read alone at night." "Library Journal""
Information
Format: Paperback
Pages: 480 pages
Publisher: Kensington Publishing
Publication Date: 28/05/2013
Category: Romance
ISBN: 9781420118483
Free Home Delivery
on all orders
Pick up orders
from local bookshops
Reviews
Showing 1 - 4 of 4 reviews.
Review by tricia35
16/06/2015
Something Wicked is one of the best books I have read in awhile. I could not put it done until it was finished. It has a lot of twist and turns and the suspense is great. I can't wait until the next book comes out. I will recommend this book to my friends and family.
Review by Carolee888
16/06/2015
I I hadn't read any of the other books in this series. I think would been better if I had read the previous books because there were so many characters that it was difficult to keep them straight.The book kept me reading but I only liked one character, the pregnant detective trying to solve several cases at the same time, endure teasing about being pregnant from the rest of station and be a surrogate for sister. I sort of felt that she was protecting me from the rest of the book. Even though, it was stretching reality, I did enjoy the blizzard scene. I thought it was unreal for her to have a baby and then quickly get back on the case.I didn't like the group of women on the mysterious island of Siren Song at all. Also I hated the villain, he was way too creepy for me, and he did things that were very difficult to read about. He gave me chills.Think I skimmed through the goriest scenes for fear of nightmares later. I didn't realize the paranormal bent of this book before I started to read it so I hope that I am not being too harsh. There was too much heat and too much violence and it made me glad that I hadn't read the rest of the series. You may like this book better if you can stand more heat and violent scenes but I did not. I would have liked to extract the detective from this book and plunge her in a different one.I received this book as a won from Library Thing but that in no way influenced my review.
Review by Teritree001971
16/06/2015
SOMETHING WICKED is a suspense mystery which leaves the reader guessing until the end as to the killers true identity. Although it is part of a series, I had no problems following the story even though I'd not read any of the others. The story opens with Echo Island and the discovery of a dead body posing more questions than answers. Then, we go on to meet the main character of the story, Savvy who works as a detective and is very pregnant. At times the story is disappointing when you realise scenes are just too unreal for words, ie having a baby, in a blizzard and back at work the next day and at others you're wondering how could you kill this character off. Overall the story is excellent and if you like a good mystery you'll love this book. Be warned though, there's more coming in this series.
Review by MarniGreatrex
16/06/2015
A well written mystery/romance/mystical book. Even though it is part of a series it was easy enough to follow on its own. at first i had a hard time getting the characters straight, but the mystery holds you until the end, not my typical reading choice, but can see this being a popular series.