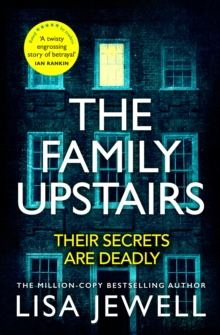 The Family Upstairs
Hardback
Description
____________________________`A twisty and engrossing story of betrayal and redemption.' IAN RANKINFROM THE #1 BESTSELLING AUTHOR OF THEN SHE WAS GONEIn a large house in London's fashionable Chelsea, a baby is awake in her cot.
Well-fed and cared for, she is happily waiting for someone to pick her up. In the kitchen lie three decomposing corpses. Close to them is a hastily scrawled note. They've been dead for several days. Who has been looking after the baby? And where did they go? Two entangled families. A house with the darkest of secrets. A compulsive new thriller from Lisa Jewell. ____________________________`An abandoned baby, a surprise inheritance, a cobwebbed Bohemian mansion - The Family Upstairs is rich in mystery from the very first page, and Lisa Jewell's best book yet.' ERIN KELLY'A stunning psychological thriller with a dark family story at its centre.
Full of atmosphere and menace. I was gripped from the first page.' ELLY GRIFFITHS'Absolutely brilliant.
Great characterisation, a fascinating and dark set up and a great conclusion.
She's always great but this is next level stuff.' SARAH PINBOROUGH'Few writers of psychological suspense devise such swift, slippery plots; fewer still people their stories with characters so human and complex.
Lisa's Jewell's The Family Upstairs glitters like a blade and cuts even deeper.' AJ FINN'Whenever I pick up a Lisa Jewell novel I know I'm in for a compelling, immersive and unputdownable read and The Family Upstairs is one of her very best' CL TAYLOR`I had hoped to save The Family Upstairs for my holiday, but failed miserably ...
I was hooked from the first page. I think it's her best yet and hands down my favourite book so far this year.' ALICE FEENEY`Utterly compelling.
Deliciously dark and twisty with characters who live on in your head. Lisa Jewell just keeps getting better and better.' JANE CORRY'The perfect poolside read.
The perfect anywhere read, tbh. This book is riveting, moving, and out in August. Highest possible level of recommendation.' SOPHIE HANNAH'Just finished The Family Upstairs and I'm telling you it's her best book yet - human, gripping, deeply felt, seriously twisty and skilfully plotted.
Bravo!' PAUL BURSTON 'It's absolutely bloody brilliant and I can't tell you much I wish I'd written it.' TAMMY COHEN`It's SO GOOD!' INDIA KNIGHT____________________________Early readers are obsessed with The Family Upstairs:`I read so many books in the crime/mystery genre that it becomes harder to find a book that stands out.
This one succeeded!! Hooked from page one'`I totally adored this book. All of Lisa Jewell's books are fabulous, but something about this one is extra special.''I read this all in one go ... my favourite Lisa Jewell book to date!''Absolutely absorbing ... thoroughly enjoyed it'`This book draws you in from the start ... compulsive reading.''Kept me captivated from the very beginning ...
Definitely worth reading - as long you like reading into the night!''Everything you could wish for in a book.
I devoured it.'`Every now and then - not often - you get a psychological drama that lives up to its promise.
One that has you hooked from the outset and keeps you reading long after bedtime.
The Family Upstairs in one such book.'`Wow!!'`What a book.
Clever would be an understatement. And those last pages left me with chills. The concept had me intrigued and the execution had me captivated.
I COULD NOT PUT THIS BOOK DOWN!'
Information
Format: Hardback
Pages: 464 pages
Publisher: Cornerstone
Publication Date: 08/08/2019
Category: Crime & mystery
ISBN: 9781780899206
Save 23%
Free Home Delivery
on all orders
Pick up orders
from local bookshops