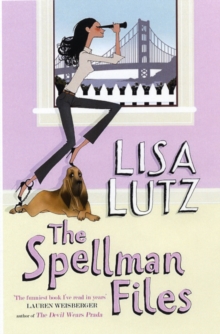 The Spellman Files
Paperback
Description
Izzy Spellman is 28, single and works for Spellman Investigations, a family-run private detective agency.
She might have a chequered past littered with romantic mistakes - but at least she's good at her job.
Invading people's privacy comes naturally. To the whole family. To be a Spellman is to snoop on a Spellman; tail a Spellman; dig up dirt on, blackmail and wiretap a Spellman.
But when Izzy's parents hire her 14-year-old sister to discover the identity of her new boyfriend, Izzy decides she wants out.
Before they'll let her go, her parents ask her to solve one last case - a 15-year-old, ice-cold, missing person, impossible-to-solve case.
But when a disappearance occurs far closer to home, Izzy's Impossible Case becomes the most important of her life.
Information
Format: Paperback
Pages: 384 pages
Publisher: Simon & Schuster
Publication Date: 04/08/2008
ISBN: 9781416526407
Other Formats
EPUB from £2.99
eAudiobook MP3 from £15.08
Free Home Delivery
on all orders
Pick up orders
from local bookshops
Reviews
Showing 1 - 3 of 3 reviews.
Review by rampeygirl
16/06/2015
Isabel Spellman loves doing her work. You see she is a private investigator, and she works with her family nonetheless. So when Isabel meets Daniel, her world is turned upside down. The Spellmans are a quirky family who spy on each other, tell secrets, and conduct full-scale surveillance on each other. So when her family starts spying on her private life, Isabell has had enough, or does she?
Review by shanyn
16/06/2015
I picked up this book at the library after recommendation in a book forum. I had a long list of authors that were recommended, and Lisa Lutz ended up being one of the only ones that was actually at my library - but I'm glad! I read this book in about a day (largely due to the fact that I work at a job that allows me to read sometimes), but even when I came home after my work shift I sat down to finish it because I loved the characters and the plot.At first I was confused with the layout, because there are many different stories going on at once. Once I got a grip on the changes, I made sure I read the chapter titles (which I find I don't normally do), and I was then able to keep track of the story.I have been reading quite a few mysteries lately (I'm going to review some today, you'll see what I mean) - and sometimes I have trouble keeping track of all of the characters or figure out the mystery too fast. The Spellman Files was an excellent book to get me back into mysteries and raise my faith in the genre. I loved all of the characters, laughed out loud a few times, and immediately started reading Curse of the Spellmans (book number 2). I am already sad that I don't have book 3, but am hoping it will be at the library the next time I stop in.
Review by phoebesmum
16/06/2015
Izzie Spellman is 28, single, lives with her controlling parents, and works for their detective agency. Given her history of juvenile delinquency, her parents don't trust her. In fact, Izzie doesn't even trust herself; all she has to rely on is her care of her little sister, who nobody in the family wants to see go the same way. When her sister vanishes, there's nothing the family wouldn't do to get her back.Would-be sparky and sassy, but it falls flat. The characters are too wildly eccentric to believe, and the non-consecutive narration only gives the book a scattershot, unsatisfactory feel. Basically, everyone in the damned thing needs to just grow up.