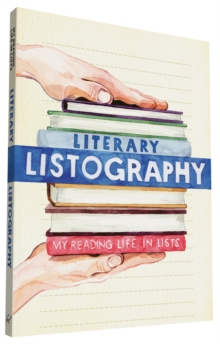 Literary Listography : My Reading Life in Lists
Calendar
Description
Now fans of the bestselling Listography journal series can keep track of their literary life - past, present and future.
With over 70 entertaining and thought-provoking list topics ranging from the quintessential (favourite books by genre, authors to explore) to the lovably idiosyncratic (favourite reading spots, books to skip), this illustrated journal will serve as a unique autobiography and reading log for bibliophiles.
Information
Format: Calendar
Pages: 160 pages, Colour illustrations
Publisher: Chronicle Books
Publication Date: 22/07/2014
Category: Stationery items
ISBN: 9781452131603
Free Home Delivery
on all orders
Pick up orders
from local bookshops
Reviews
Showing 1 - 1 of 1 reviews.
Review by quaintlittlehead
27/08/2015
"You don't need to buy another book right now," I tried to tell myself a week and a half before moving. Since I already owned the original "Listography" and "Music Listography" books, and since I love reading and writing, I felt compelled to add this to my collection. I picked it up and skimmed through it twice, putting it down each time as my more logical half tried to convince me that this was not a necessity. But my emotions prevailed, and I'm glad they did. I don't know how I am going to read anything now without this book right by my side too.On my first skims through, the categories of lists didn't look all that interesting to me. Some even intimidated me and made me think, "okay, maybe I don't actually read all that much." Categories like "Graphic Novels" and "Audiobooks I Love" just aren't going to get that many entries from me. But after looking back through the complete list in the privacy of my home, rather than the glare of the bookstore florescent lights, there are so many lists that are going to truly re-shape my thinking about the books I have read and will someday read: "Fictional Crimes I've Witnessed," "Cities and Countries I've Travelled to Via Literature," "Families I Spanned Time With," and "Words I Love and Hate the Sound Of," just to name a few. The authors have managed to recognise that reading, for those who love it, is not just a matter of acquisition, but of experience; that books are not collected titles and authors to us, but relationships with living characters. The book retains the indie art feel that is characteristic of the illustrations in all of the Listography series, but it is dressed up with a bit more of a polished, retro look in this volume, with very thoughtful author and character portraits and some stunning artistic representations of literary concepts (the candy heart lollipop that represents "Lolita" is just great). And since each of the illustrations represents a book that might fit in the category on the adjoining page, if you're not super familiar with that category, you've got at least one suggestion to get you started exploring in that direction. I don't see how any book lover could not love this; you might even need multiple copies to keep up with all the additions you want to include over the years.