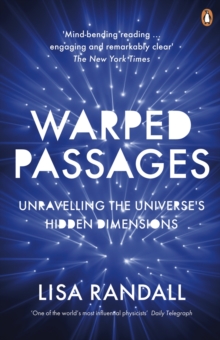 Warped Passages : Unravelling the Universe's Hidden Dimensions
Paperback
Description
In Warped Passages one of the world's most exciting scientists gives us a glimpse into our future.
Incredibly readable - and illustrated throughout - it allows the general reader to understand the questions that scientists are dealing with at the frontiers of research today.
Lisa Randall allows the reader to understand the kind of problems that extra dimensions might solve and the kind of speculation that is needed even to imagine them.
She also gives an introduction to developments in early twentieth century physics, particle physics and string theory and addresses current debates about relativity, quantum mechanics and gravity - and she describes the questions that are still to be solved.
Information
Format: Paperback
Pages: 512 pages
Publisher: Penguin Books Ltd
Publication Date: 03/08/2006
Category: Popular science
ISBN: 9780141012971
Free Home Delivery
on all orders
Pick up orders
from local bookshops
Reviews
Showing 1 - 3 of 3 reviews.
Review by pulsus
16/06/2015
Hard to read but quite enlightening with a lot of redundant passages. Style and short stories at the beginning of each chapter rather dull. Nevertheless recommendable for everyone who wants to broaden his horizons (in the truest sense of the word).
Review by booksbooks11
16/06/2015
Absolutely wonderful book. Lisa manages to describe without maths what is behind current theories in physics and the workings of the fundamental particles of all matter. She actually makes the unfolding mysteries of quarks and leptons fascinating reading, describing the paths that research has taken in the last 50 years or so and what is left to find out. You won't remember much of the details but what you will get is a general understanding of what they are looking for and how they do it.
Review by Jewsbury
16/06/2015
This is a beautifully written account of complex scientific ideas. The book covers extra spatial dimensions – how they might come about and what consequences they would have. Most features are ably explained by using an analogy. Thus as the provider of a popular account of recent speculations, this book fares very well. Yet there is also a political undercurrent to slightly unnerve. For instance she neatly sidesteps controversies by simply expressing her opinion. So she opines that string theory is the 'best' of current suggestions for a more fundamental theory. Thus she misses opportunities to give more convincing reasons for the studies. For work that has drifted so far from the mainstream and piled up speculation on top of speculation that larger justification would have given the book more meaning.