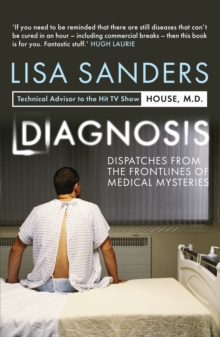 Diagnosis : Dispatches from the Frontlines of Medical Mysteries
Paperback
Description
You're a doctor, faced with a 22-year-old woman who is dying before your eyes.
Previously fit, happy, and rarely ill now she's wasting away, confined to a hospital bed.
Test results are abnormal but inexplicable; a dozen other doctors have seen her but none have been able to figure out what's wrong.
It's your job to save her. Where do you start? In movies diagnosis is the one-liner that separates the fascinating symptoms from the initiation of life-saving therapy.
But in reality it's a difficult, delicate blend of sophisticated technology and hands-on assessment.
How a diagnosis is made is the most complex and exciting tale that doctors tell. "Diagnosis" combines the drama of House with the living, breathing world of real hospitals and real patients.
Sanders, a practicing doctor, leads us from the moment the patient first appears, through the calculus of making a diagnosis, the necessary prerequisite to effective treatment.
An endlessly fascinating medical detective story, "Diagnosis" opens up as never before the finer workings of the human body, and celebrates the dedicated physicians who we may all someday need to trust with our lives.
Information
Format: Paperback
Pages: 320 pages
Publisher: Icon Books Ltd
Publication Date: 03/06/2010
Category: Medical diagnosis
ISBN: 9781848311336
Free Home Delivery
on all orders
Pick up orders
from local bookshops
Also by Lisa Sanders