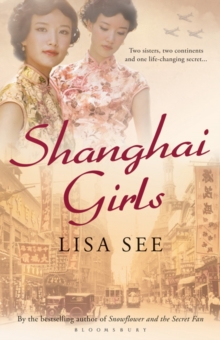 Description
Shanghai, 1937. Pearl and May are two sisters from a bourgeois family.
Though their personalities are very different - Pearl is a Dragon sign, strong and stubborn, while May is a true Sheep, adorable and placid - they are inseparable best friends.
Both are beautiful, modern and living a carefree life until the day their father tells them that he has gambled away the family's wealth, and that in order to repay his debts he must sell the girls as wives to two 'Gold Mountain' men: Americans.
As Japanese bombs fall on their beloved city, the two sisters set out on the journey of a lifetime, one that will take them through the villages of southern China, in and out of the clutches of brutal soldiers, and even across the ocean, through the humiliation of an anti-Chinese detention centre to a new, married life in Los Angeles' Chinatown.
Here they begin a fresh chapter, despite the racial discrimination and anti-Communist paranoia, because now they have something to strive for: a young, American-born daughter, Joy. Along the way there are terrible sacrifices, impossible choices and one devastating, life-changing secret, but through it all the two heroines of this astounding new novel by Lisa See hold fast to who they are - Shanghai girls.
Information
Format: Paperback
Pages: 336 pages
Publisher: Bloomsbury Publishing PLC
Publication Date: 05/07/2010
ISBN: 9781408801123
Free Home Delivery
on all orders
Pick up orders
from local bookshops
Reviews
Showing 1 - 4 of 4 reviews.
Review by Kelslynn
16/06/2015
I didn't find either of the Shanghai Sisters particularly engaging: the older sister Pearl (who narrates the story) and her sister May are "beautiful girls" in Shanghai when the book begins in 1937 Shanghai. They are silly shallow young women who ridicule their parents and their old school ways. They wear expensive stylish clothes to model for artists and live a glamourous lifestyle, not noticing that their family home is being sold off piece by piece. Their father, to pay off huge debts, makes marriage contracts for the two girls with Chinese-American men. Thus, the setup for the novel: sibling rivalry, familial respect and loyalty, cultural prejudices and segregation, government shortcomings. At times this was a slow read for me: it seemed to jump from one tragedy to the next, particularly Pearl, surviving but not rising above or moving past what has befallen her. Even though the daughter (whose ... Pearl or May) is named Joy, I found little "joy" in this book. And I seriously don't care for books that so obviously set me up to "find out what happens to (fill in the blank)."
Review by readyreader
16/06/2015
I find all books, fiction and nonfiction, about China to be fascinating because it seemed that China as a country and a people have been cut off from our Western culture for decades. So every glimpse into what their life was and is today only makes me appreciate more their history and contributions to the world. Ms. See is an exceptional writer in that she brings to us through her many novels, the essence of being Chinese, and therefore, helps us all understand more clearly this major part of our humanity.
Review by Amy.Seager
16/06/2015
I loved this book! It is a story about two young Chinese girls and their lives between 1937 to 1957. This book historically depicts the invasion of China by the Japanese,the trials of being admitted into America at Angel Island,and communism coming to China. These two women are smart and strong,and I believe you will find yourself applauding them!
Review by sunnydrk
16/06/2015
Ms. Lee takes us on a haunting trip back in time with such vivid imagery that I feel as though I am there with Pearl and May through all their adventures and trials. A wonderfully written book that helps us understand the impact of secrets and actions.