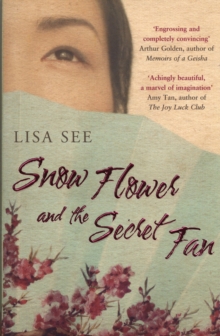 Snow Flower and the Secret Fan
Paperback
Description
Lily is the daughter of a humble farmer, and to her family she is just another expensive mouth to feed.
Then the local matchmaker delivers startling news: if Lily's feet are bound properly, they will be flawless.
In nineteenth-century China, where a woman's eligibility is judged by the shape and size of her feet, this is extraordinary good luck.
Lily now has the power to make a good marriage and change the fortunes of her family.
To prepare for her new life, she must undergo the agonies of footbinding, learn nu shu, the famed secret women's writing, and make a very special friend, Snow Flower.
But a bitter reversal of fortune is about to change everything.
Information
Format: Paperback
Pages: 352 pages
Publisher: Bloomsbury Publishing PLC
Publication Date: 01/01/2006
ISBN: 9780747583004
Free Home Delivery
on all orders
Pick up orders
from local bookshops
Reviews
Showing 1 - 5 of 11 reviews.
Previous | Next
Review by aapjebaapje
16/06/2015
Good book. Light reading. I enjoyed it. About the life of a Chinese woman who's feet were bound and the shape enabled her to enter a higher class whilst her life-long companion fell down the social scale after her father turned to opium
Review by wyvernfriend
16/06/2015
This is the story of Lily, the daughter of a humble farmer and her friendship with Snow Flower the daughter of a merchant. Lily has a chance of advancement because her feet look like they might be perfect "lily feet" when bound. This may help her family advance and make her a good marriage. It's an interesting story but I'm not sure that some of the trial and tribulations were almost too much. It was interesting and the characters came across as being quite faithful to the historical reality.
Review by LadyN
16/06/2015
This book gave me the same sense of satisfaction on completion as "Memoirs of a Geisha" and "Epress Orchid".Lisa See gives fascinating, often uncomfortable insight into women's life in 19th century. Lily is a young girl, contracted into a lifetime of unbreakable friendship with Snow Flower. Throughout their lives they share in each others fortunes and extreme hardships, leading the reader on an emotional journey of discovery. As someone who relishes reading about vastly different times and cultures to my own, I found this book utterly absorbing. See's gift as a story teller is profound, and I would highly recommend this book.
Review by pokarekareana
16/06/2015
Lily comes from a lowly Chinese family in a mediocre village, but soon after her feet are bound at the age of seven, the local matchmaker sees the potential to arrange a marriage into a well-off family. In preparation, Lily is bound in formal friendship to Snow Flower, and the story tells the complex tale of their childhood, adolescence and adult years, until a series of catastrophic events turn their lives upside down.This book lingered in my TBR pile for a long, long time, and I'm not sure why. It arrived there on the basis of a ringing recommendation from a colleague and it absolutely deserved it. I found the friendship between the two little girls moving from the start, and as they grew older, their bond just grew stronger and deeper than those they had with their respective husbands. The character of Lily was convincing and likable, and I found it very easy to feel sympathy for her, even though she did bring some of her problems on herself. See's cast of characters was varied and intriguing, with some treasures and some horrors to be found among them.I thoroughly enjoyed it, and would wholeheartedly recommend it to anyone who enjoyed Wild Swans and the like.
Review by helen295
16/06/2015
This book was recommended to me after I read Wild Swans by Jung Chang earlier this year and as I had heard a lot of good things about it, I decided to give it a try.Lily is a Chinese girl born in Hunan Province in 1823, the daughter of a poor farmer. When she is six years old, the local matchmaker has an exciting announcement to make: if Lily's feet are bound properly they will be the perfect size and shape, allowing her to marry well and improve the fortunes of herself and her family. As well as arranging marriages for young girls, another job of the professional matchmaker is to find them a laotong or 'old same' – a special friend whose personal circumstances match in a number of different ways (e.g. same birthday, same number of siblings). Snow Flower and the Secret Fan tells the story of the lifelong friendship between Lily and her 'old same' Snow Flower.If you haven't read this book yet, I should warn you that the chapter on footbinding goes into a lot of detail, describing exactly what it involves and how much suffering the girl is forced to endure – all because small feet were considered the ideal and a girl with large feet would be virtually unmarriageable. One of the worst things about the whole process in my opinion was that it was usually carried out by the child's mother – I just can't imagine a mother inflicting so much pain and suffering on her daughter and even risking the girl dying from infection. If you can manage to get through this chapter though, there are plenty of other Chinese customs and traditions to learn about.For example, did you know that Chinese women had a secret language of their own known as nu shu? This came about because women were discouraged from learning standard Chinese writing, so invented their own writing system which they then tried to keep hidden from the men. Throughout the book, Lily and Snow Flower communicate by writing messages to each other on a silk fan, using nu shu. I also found the custom of the laotong fascinating. Most young Chinese girls had a group of 'sworn sisters', who would be her closest friends only until the day she married. Lily, however, was chosen to have a laotong – a girl who would remain her best friend throughout her entire life.I thought it was sad that women were considered to be worthless and their only value to society was as a potential mother of sons. If a woman only gave birth to girls she was no use to her family.While I wouldn't say I loved this book, I did enjoy learning about a culture so completely different to my own.