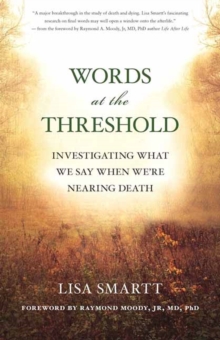 Words at the Threshold : Investigating What We Say When We're Nearing Death
Paperback
Description
Its very beautiful over there.
final words of inventor Thomas Edison

A persons last words often take on an eerie significance, giving tantalizing clues about the ultimate fate of the human soul. Until now, however, no author has systematically studied end-of-life communication by using examples from ordinary people. When her father became terminally ill with cancer, author Lisa Smartt began transcribing his conversations and noticed that his personality underwent inexplicable changes. Smartts father, once a skeptical man with a secular worldview, developed a deeply spiritual outlook in his final days a change reflected in his language. Baffled and intrigued, Smartt began to investigate the near-death utterances of others, collecting over a hundred case studies with interviews and transcripts. In Words at the Threshold, Smartt decodes the symbolism of those last words, showing how the language of the dying points the way to a transcendent world beyond our own.

Free Home Delivery
on all orders
Pick up orders
from local bookshops